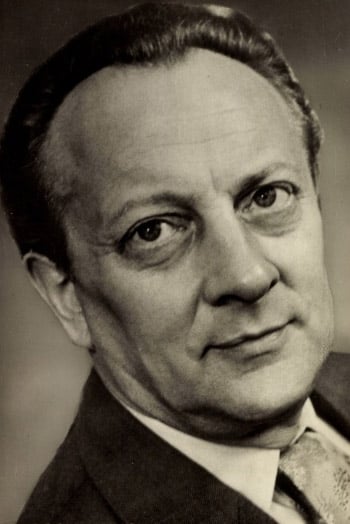 Biografía
Hans Klering (8 de noviembre de 1906 - 30 de octubre de 1988) fue un actor, director, actor de voz, diseñador gráfico y autor alemán. Se unió al Partido Comunista y se exilió en la Unión Soviética en 1931, regresando a Alemania en 1945. En 1946, se convirtió en cofundador de DEFA, el estudio de cine estatal de Alemania Oriental, así como uno de sus directores y miembros del consejo.

Calificaciones
Promedio 5.39
Basado en 10,9 mil de audiencias de película y Serie de TV con el tiempo
Información
Conocido por
Acting
Género
Hombre
Cumpleaños
1906-11-08
Dia muerto
1988-10-30 (81 años)
Lugar de nacimiento
Berlin, Germany
Niñas
Juliane Korén
Ciudadanías
Germany
También conocido como
Ганс Клеринг, Ханс Клеринг
Premios
Order of the Badge of Honour, Order of Karl Marx, Banner of Labor

This article uses material from Wikipedia.