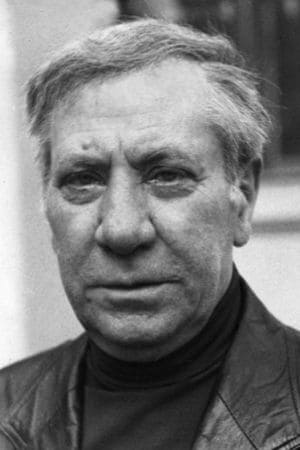 Biographie
Nikolay Arkadevich Skorobogatov (Russian: Vyazma, Vyazemsky Uyezd, Gouvernorat de Smolensk — 10 juin 1987, Moscou) était un acteur de cinéma et de théâtre soviétique. Né dans la famille du chemin de fer, il fut admis dans la structure secondaire d'un acteur Viazemsky Drama Theater, où il travailla jusqu'en juillet 1941. Toujours en juillet 1941, la famille se rendit au théâtre de Skorobogatov de Stalingrad, où Nicholay devint acteur de Stalingrad Spectators, alors qu'il travaillait comme gardien dans un entrepôt militaire.En mars 1942, il se rendit au front, où il travaillait comme une flèche du Théâtre d'Aéroport en octobre 1952.

Notes
Moyenne 6.1
Basé sur 13,1 millier d'audiences filme et séries au fil du temps
Information
Célèbre pour
Acting
Sexe
Hommes
Date de naissance
1923-12-19
Date de décès
1987-06-10 (63 ans)
Lieu de naissance
Vyazma, Russia
Citoyennetés
Soviet Union
Alias
Nikolai Skorobogatov, Nikolay Skorobogatov, Николай Скоробогатов, Скоробогатов Николай Аркадьевич
Récompenses
Medal "For the Victory over Germany in the Great Patriotic War 1941–1945", Medal "For the Defence of Stalingrad", Merited Artist of the RSFSR, Order of the Patriotic War 2nd class, Vasilyev Brothers State Prize of the RSFSR

This article uses material from Wikipedia.