Korgoth of Barbaria
Status: Released
Running time: 22m
Plot
.
In a dark future wasteland, the great cities have risen and fallen, primordial beasts have reclaimed the wilderness and thieves and savages populate sparse, dirty towns. From the frozen north emerges a warrior known as Korgoth, and his merciless savagery may be his only key to survival.
Where To Watch
.
No streaming offers found
Gallery
.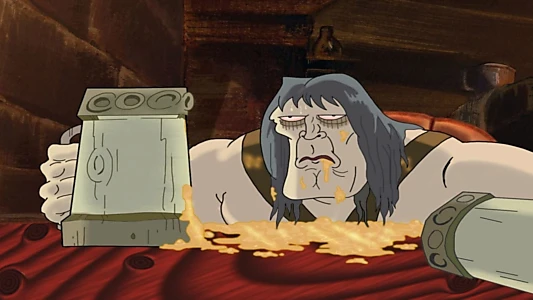 Wiki
.
Korgoth of Barbaria is a pilot episode for what was originally planned as an American adult animated television series created by Aaron Springer, a storyboard artist, writer and director for Dexter's Laboratory, The Grim Adventures of Billy & Mandy, Samurai Jack, and SpongeBob SquarePants, who previously created another failed pilot at Cartoon Network Studios called Periwinkle Around the World. He would later go on to produce Billy Dilley's Super-Duper Subterranean Summer for Disney XD. Genndy Tartakovsky, creator of Dexter's Laboratory and Samurai Jack, directed the animation for the pilot. This was not the only time he worked on a pilot created by Springer, as Tartakovsky also produced and directed Periwinkle Around the World.


It was first aired in the United States on June 3, 2006, at 12:30 AM (EST) on Adult Swim. On June 18, Adult Swim ran a bumper announcing that Korgoth of Barbaria was officially picked up as a series, because of its critical and commercial success with garnering high ratings. Later events, including a formal petition to revive the show and an Adult Swim bumper announcement mentioning its cancellation, indicate that it was dropped before production began due to high production costs.