Biography
Caryn Elaine Johnson (born November 13, 1955), known professionally as Whoopi Goldberg (), is an American actor, comedian, author, and television personality. A recipient of numerous accolades, Goldberg is one of sixteen entertainers to have won an Emmy Award, a Grammy Award, an Academy Award, and a Tony Award.Goldberg's film breakthrough came in 1985 for her role as Celie, a mistreated woman in the Deep South, in Steven Spielberg's period drama film The Color Purple, for which she was nominated for the Academy Award for Best Actress, and won her first Golden Globe Award. For her performance in the romantic fantasy film Ghost (1990) as an eccentric psychic, Goldberg won the Academy Award for Best Supporting Actress and a second Golden Globe Award. In 1992, Goldberg starred in the comedy Sister Act, earning a third Golden Globe Award nomination. She reprised the role in Sister Act 2: Back in the Habit (1993), making her the highest-paid actress at the time.A theatre performer and producer, Goldberg has performed in Broadway productions, one of which was a one-woman show that produced a comedy album that earned her a Grammy Award. She has starred in the revivals of Stephen Sondheim's musical comedy A Funny Thing Happened on the Way to the Forum (1996) as Pseudolus and in August Wilson's historical drama Ma Rainey's Black Bottom (2003) as Ma Rainey. She has won a Tony Award as a producer of the musical Thoroughly Modern Millie. In television, Goldberg portrayed Guinan on Star Trek: The Next Generation. Since 2007, she has co-hosted and moderated the daytime talk show The View, for which she won a Daytime Emmy Award. She has also hosted multiple Academy Award ceremonies.
Personal Life
Goldberg has been married three times. She was married to Alvin Martin from 1973 to 1979; to cinematographer David Claessen from 1986 to 1988; and to union organizer Lyle Trachtenberg from 1994 to 1995. She has been romantically linked to actors Frank Langella and Ted Danson. Danson controversially appeared in blackface during her 1993 Friars Club roast. She has stated that she has no plans to marry again, commenting "Some people are not meant to be married and I am not meant to. I'm sure it is wonderful for lots of people." In a 2011 interview with Piers Morgan, she explained that she never loved the men she married and commented: "You have to really be committed to them...I don't have that commitment. I'm committed to my family."In 1973, Goldberg gave birth to a daughter, Alexandrea Martin, who also became an actress and producer. Through her daughter, Goldberg has three grandchildren and a great-granddaughter. On August 29, 2010, Goldberg's mother, Emma Johnson, died after suffering a stroke. She left London at the time, where she had been performing in the musical Sister Act, but returned to perform on October 22, 2010. In 2015, Goldberg's brother Clyde died of a brain aneurysm.In 1991, Goldberg spoke out about her abortion in The Choices We Made: Twenty-Five Women and Men Speak Out About Abortion. In that book, she spoke about using a coat hanger to terminate a pregnancy at age 14. She said she has had six or seven abortions by 25 and that birth control pills failed to stop several of her pregnancies. Goldberg has stated that she was once a "functioning" drug addict. She has stated that she smoked marijuana before accepting the Best Supporting Actress award for Ghost in 1991.Goldberg has dyslexia. She has lived in Llewellyn Park, a neighborhood in West Orange, New Jersey, saying she moved there to be able to be outside in private. She has expressed a preference for defining herself by the gender-neutral term "actor" rather than "actress", saying: "An actress can only play a woman. I'm an actor – I can play anything." In March 2019, Goldberg revealed that she had been battling pneumonia and sepsis, which caused her to take a leave of absence from The View.
Early Life
Caryn Elaine Johnson was born in Manhattan on November 13, 1955, the daughter of Robert James Johnson Jr. (March 4, 1930 – May 25, 1993), a Baptist clergyman, and Emma Johnson (née Harris; September 21, 1931 – August 29, 2010), a nurse and teacher. She was raised in the Chelsea-Elliot Houses.Goldberg has described her mother as a "stern, strong, and wise woman" who raised her as a single mother with her brother Clyde (c. 1949 – May 11, 2015). She attended a local Catholic school, St Columba's, when she was younger. Her more recent forebears migrated north from Faceville, Georgia; Palatka, Florida; and Virginia. She dropped out of Washington Irving High School.She has stated that her stage forename ("Whoopi") was taken from a whoopee cushion; "When you're performing on stage, you never really have time to go into the bathroom and close the door. So if you get a little gassy, you've got to let it go. So people used to say to me, 'You're like a whoopee cushion.' And that's where the name came from."Regarding her stage surname, she said in 2011, "My mother did not name me Whoopi, but Goldberg is my name, it's part of my family, part of my heritage. Just like being black", and "I just know I am Jewish. I practise nothing. I don't go to temple, but I do remember the holidays." She has stated that "people would say 'Come on, are you Jewish?' And I always say 'Would you ask me that if I was white? I bet not.'" One account recalls that her mother, Emma Johnson, thought that the family's original surname was "not Jewish enough" for her daughter to become a star. Researcher Henry Louis Gates Jr. found that all of Goldberg's traceable ancestors were African Americans, that she has no known German or Jewish ancestry, and that none of her ancestors were named Goldberg. Results of a DNA test, revealed in the 2006 PBS documentary African American Lives, traced part of her ancestry to the Papel and Bayote people of modern-day Guinea-Bissau. Her admixture test indicates that she is of 92 percent sub-Saharan African origin and of 8 percent European origin.According to an anecdote told by Nichelle Nichols in Trekkies (1997), a young Goldberg was watching Star Trek, and upon seeing Nichols's character Uhura, exclaimed, "Momma! There's a black lady on television and she ain't no maid!" This spawned lifelong fandom of Star Trek for Goldberg, who eventually asked for and received a recurring guest-starring role as Guinan on Star Trek: The Next Generation.In the 1970s, Goldberg relocated to Southern California before settling in Berkeley, where she worked various odd jobs, including as a bank teller, a mortuary cosmetologist, and a bricklayer. There, she also joined the avant-garde theater troupe, the Blake Street Hawkeyes, and taught comedy and acting classes; Courtney Love was one of her acting students. Goldberg also worked in a number of theater productions. In 1978, she witnessed a midair collision of two planes in San Diego, causing her to develop a fear of flying and post-traumatic stress disorder.
Filmography
Gallery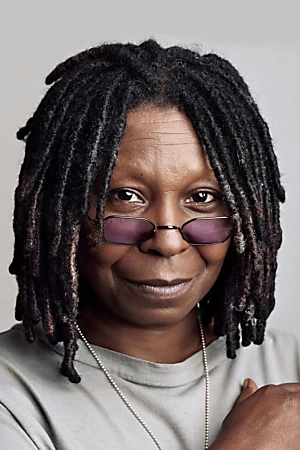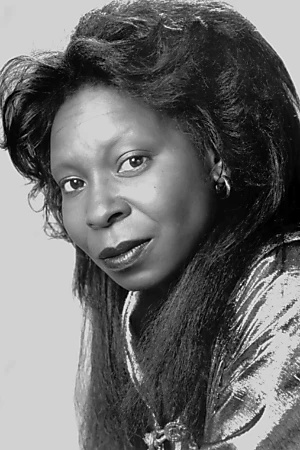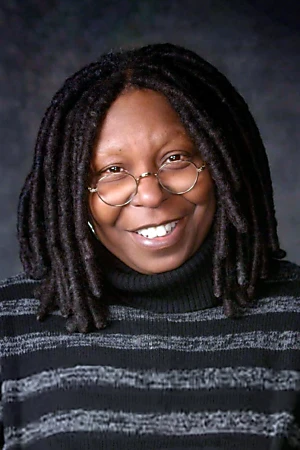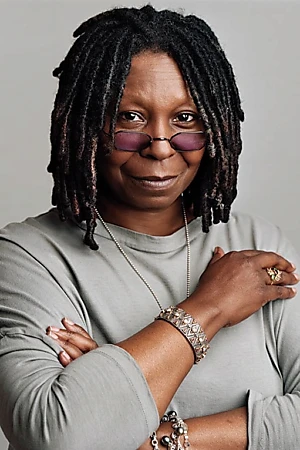 Information
Birthday
1955-11-13 (66 years old)
Known for
Acting
Also known as
Caryn Elaine Johnson, Whoopie Goldberg, 우피 골드버그
Children
Alex Martin
Birth name
Caryn Elaine Johnson
Relationships
Alvin Martin (1973-01-01 - 1979-01-01), David Claessen (1986-01-01 - 1988-01-01), Lyle Trachtenberg (1994-01-01 - 1995-01-01)
Gender
Female
Place of birth
Manhattan, United States of America
Citizenships
United States of America
Awards
honorary doctor of Brandeis University, Crystal Award, Mark Twain Prize for American Humor, Theatre World Award, Golden Globe Award, Drama Desk Award, Emmy Award, Academy Award for Best Supporting Actress, Tony Award, Grammy Award