Discover Movies and TV shows that fit You with our Mobile Application Biography
Giacomo Meyerbeer (born Jacob Liebmann Beer; 5 September 1791 – 2 May 1864) was a German opera composer of Jewish birth, "the most frequently performed opera composer during the nineteenth century, linking Mozart and Wagner". With his 1831 opera Robert le diable and its successors, he gave the genre of grand opera 'decisive character'. Meyerbeer's grand opera style was achieved by his merging of German orchestra style with Italian vocal tradition. These were employed in the context of sensational and melodramatic libretti created by Eugène Scribe and were enhanced by the up-to-date theatre technology of the Paris Opéra. They set a standard which helped to maintain Paris as the opera capital of the nineteenth century. Born to a very wealthy Berlin family, Meyerbeer began his musical career as a pianist but soon decided to devote himself to opera, spending several years in Italy studying and composing. His 1824 opera Il crociato in Egitto was the first to bring him Europe-wide reputation, but it was Robert le diable (1831) which raised his status to great celebrity. His public career, lasting from then until his death, during which he remained a dominating figure in the world of opera, was summarized by his contemporary Hector Berlioz, who claimed that he 'has not only the luck to be talented, but the talent to be lucky.' He was at his peak with his operas Les Huguenots (1836) and Le prophète (1849); his last opera (L'Africaine) was performed posthumously. His operas made him the most frequently performed composer at the world's leading opera houses in the nineteenth century. At the same time as his successes in Paris, Meyerbeer, as a Prussian Court Kapellmeister (Director of Music) from 1832, and from 1843 as Prussian General Music Director, was also influential in opera in Berlin and throughout Germany. He was an early supporter of Richard Wagner, enabling the first production of the latter's opera Rienzi. He was commissioned to write the patriotic opera Ein Feldlager in Schlesien to celebrate the reopening of the Berlin Royal Opera House in 1844, and he wrote music for certain Prussian state occasions. Apart from around 50 songs, Meyerbeer wrote little except for the stage. The critical assaults of Wagner and his supporters, especially after Meyerbeer's death, led to a decline in the popularity of his works; his operas were suppressed by the Nazi regime in Germany, and were neglected by opera houses through most of the twentieth century. In the 21st century, however, the composer's major French grand operas have begun to reappear in the repertory of numerous European opera houses.
Career
In Italy. Despite performances of his oratorio Gott und die Natur (God and Nature) (Berlin, 1811) and his early operas Jephtas Gelübde (Jephtha's Vow) (Munich, 1812) and Wirth und Gast (Landlord and Guest) (Stuttgart, 1813) in Germany, Meyerbeer had set his sights by 1814 on basing an operatic career in Paris. In the same year, his opera Die beiden Kalifen (The Two Caliphs), a version of Wirth und Gast, was a disastrous failure in Vienna. Realizing that a full understanding of Italian opera was essential for his musical development, he went to study in Italy, enabled by the financial support of his family. He arrived in Italy at the beginning of 1816, after visits to Paris and London, where he heard Cramer play. In Paris, he wrote to a friend, 'I go from museum to museum, library to library, theatre to theatre, with the restlessness of the Wandering Jew'.During his years in Italy Meyerbeer became acquainted with, and impressed by, the works of his contemporary Gioachino Rossini, who by 1816, at the age of 24, was already director of both major opera houses in Naples and in the same year premiered his operas The Barber of Seville and Otello. Meyerbeer wrote a series of Italian operas on Rossinian models, including Romilda e Costanza (Padua, 1817), Semiramide riconosciuta (Turin, 1819), Emma di Resburgo (Venice, 1819), Margherita d'Anjou (Milan 1820) and L'esule di Granata (Milan 1821). All but the last two of these had libretti by Gaetano Rossi, whom Meyerbeer continued to support until the latter's death in 1855, although not commissioning any further libretti from him after Il crociato in Egitto (1824). During a visit to Sicily in 1816, Meyerbeer noted down a number of folksongs, and these in fact constitute the earliest collection of folk music of the region. In a birthday greeting from Rossi's wife in 1817 occurs the earliest use discovered of Meyerbeer's adopted forename 'Giacomo'. Recognition. The name Giacomo Meyerbeer first became known internationally with his opera Il crociato in Egitto—premiered in Venice in 1824 and produced in London and Paris in 1825; incidentally, it was the last opera ever written to feature a castrato, and the last to require keyboard accompaniment for recitatives. This 'breakthrough' in Paris was exactly what Meyerbeer had been aiming for over the past ten years; he had been carefully preparing for it, developing contacts, and fully reaped his reward.In 1826, shortly after the death of his father, Meyerbeer married his cousin, Minna Mosson (1804–1886). The marriage which may have been 'dynastic' in its origins proved to be stable and devoted; the couple were to have five children, of whom the three youngest (all daughters) survived to adulthood. In the same year, following the death of Carl Maria von Weber, Weber's widow asked Meyerbeer to complete her husband's unfinished comic opera Die drei Pintos. This was to cause him much trouble over future years, as he found the material insufficient to work on. Eventually in 1852 he settled the matter with Weber's heirs by handing them Weber's drafts and a cash compensation. (The opera was later completed by Gustav Mahler). With his next opera Meyerbeer became virtually a superstar. Robert le diable (with libretto by Eugène Scribe and Germain Delavigne), produced in Paris in 1831, was one of the earliest grand operas. The libretto, originally planned in 1827 as a three-act opéra comique for the Opéra-Comique theatre, was refashioned after 1829 in a five-act form to meet the requirements of the Paris Opéra. Its revised characterisation as a 'grand opera' placed it in succession to Auber's La muette de Portici (1828) and Rossini's Guillaume Tell (1829) in this new genre. The composer undertook further work on the opera in early 1831 adding ballet episodes, including the "Ballet of Nuns", which was to prove one of the opera's great sensations, becoming an early example of the ballet blanc genre. He also rewrote the two major male roles of Bertrand and Robert to suit the talents of Nicolas Levasseur and Adolphe Nourrit, respectively. At the invitation of Nourrit, Cornélie Falcon made her debut at the age of 18 at the Opéra in the role of Alice on 20 July 1832, and she made a vivid impression on the public, which included on that night Auber, Berlioz, Halévy, Maria Malibran, Giulia Grisi, Honoré Daumier, Alexandre Dumas and Victor Hugo. On hearing her in the role, Meyerbeer himself declared his opera at last 'complete'.The success of the opera led to Meyerbeer himself becoming a celebrity. In January 1832 he was awarded membership of the Légion d'honneur. This success – coupled with Meyerbeer's known family wealth – inevitably also precipitated envy amongst his peers. Berlioz – who had commented that 'Meyerbeer not only had the luck to be talented, he had the talent to be lucky' – wrote 'I can't forget that Meyerbeer was only able to persuade [the Opéra] to put on Robert le diable ... by paying the administration sixty thousand francs of his own money'; and Frédéric Chopin lamented 'Meyerbeer had to work for three years and pay his own expenses for his stay in Paris before Robert le diable could be staged....Three years, that's a lot – it's too much.' King Frederick William III of Prussia who attended the second performance of Robert le diable, swiftly invited him to compose a German opera, and Meyerbeer was invited to stage Robert in Berlin. Within a few years the opera had been staged with success all over Europe, and also in the USA.The fusion of dramatic music, melodramatic plot, and sumptuous staging in Robert le diable proved a sure-fire formula, as did the partnership with Scribe, which Meyerbeer would go on to repeat in Les Huguenots, Le prophète, and L'Africaine. All of these operas held the international stage throughout the 19th century, as did the more pastoral Dinorah (1859), making Meyerbeer the most frequently performed composer at leading opera houses in the nineteenth century. Between Paris and Berlin. = 1832–1839. = Letellier describes Meyerbeer's mature life as 'a tale of two cities...His artistic triumph and legendary status were achieved in Paris...but he never abandoned Prussia, especially his home city of Berlin'. His wife Minna was based in Berlin (she did not enjoy Paris) as was his beloved mother; and he had a series of Royal duties from the Prussian court, stemming from his appointment as Court Kapellmeister in 1832. For these reasons his life from 1830 onwards is characterised by travel between these two centres. In Paris Meyerbeer had been asked by Louis Véron, the director of the Opéra, for a new work. At first he attempted to persuade Véron to accept the opéra-comique Le portefaix to a libretto by Scribe, which he had been contracted to compose in early 1831; but Véron insisted on a full five-act piece. Together with Scribe, Meyerbeer reviewed many subjects before deciding, in 1832, on Les Huguenots. The contract which Meyerbeer signed with Véron contained a penalty clause if the work was not delivered by the end of 1833. When the time came and the opera was not ready, Véron claimed his 30,000 francs under this clause; Meyerbeer was perhaps unique amongst composers in being able to pay this. In fact Véron refunded the money under a further agreement, when the opera was delivered in late 1834; but Veron himself was replaced as director of the Opera by Henri Duponchel before Les Huguenots was premiered on 29 February 1836. It was an immediate and immense success, its splendid staging and effects exceeding even those of Fromental Halévy's La Juive, which had premiered the previous year. Berlioz called the score "a musical encyclopaedia", and the singing, especially of Nourrit and Falcon, was universally praised. Les Huguenots was the first opera to be performed at the Opéra more than 1,000 times (the 1,000th performance being on 16 May 1906) and continued to be produced up to 1936, more than a century after its premiere. Its many performances in all other of the world's major opera houses give it a claim to being the most successful opera of the 19th century. However, in Berlin Meyerbeer faced many problems, including the enmity of the jealous Gaspare Spontini, who since 1820 had been Court Kapellmeister and director of the Berlin Hofoper. Complaints were made in the Berlin press about the delay of the Berlin premiere of Robert le diable (which finally took place in June 1832), and Meyerbeer's music was decried by the critic and poet Ludwig Rellstab. There was no sign of the German opera expected from Meyerbeer. Moreover, reactionary censorship laws prevented production of Les Huguenots in Berlin (and indeed in many other cities of Germany). Nevertheless, Meyerbeer, who (as he wrote to a friend) 'years ago...swore to myself never to respond personally to attacks on my work, and never under any circumstances to cause or respond to personal polemics', refused to be drawn on any of these matters. Meanwhile, in Paris Meyerbeer began to seek new libretti, initially considering Le prophète by Scribe, and Le cinq mars by Henri Saint-Georges and eventually settling on Scribe's Vasco da Gama (later to become L'Africaine), which he contracted to complete by 1840. However, Meyerbeer had envisaged that the main role in L'Africaine would be written for Falcon; after the catastrophic failure of her voice in 1837, he turned instead to Le prophète.On 20 August 1839 Meyerbeer, whilst relaxing at Boulogne in the company of Moscheles, met for the first time with Richard Wagner, who was en route to Paris. Their ensuing relationship (see below) was to have major repercussions for the careers and reputations of both. At this meeting Wagner read to Meyerbeer from the libretto of Rienzi, and Meyerbeer agreed to look through the score, which indeed he subsequently recommended for performance at Dresden. = The 1840s. = By the end of 1841, Meyerbeer had completed the first draft of Le prophète, but refused to stage it because the then director of the opera, Leon Pillet, wished to cast his mistress, Rosine Stoltz, in the part of Fidès, the hero's mother. (Berlioz characterised Stoltz as 'la Directrice du Directeur'). Meyerbeer insisted on Pauline Viardot for the role. Meyerbeer lodged the score with a Parisian lawyer, and refused to countenance any production until his wishes were met. Only in 1849 was the Opéra willing to agree to his conditions. Meyerbeer was unique in his time in having the wealth and influence to impose his will as a composer in this way.In the meantime, the situation in Prussia was changing. Following the death of Frederick William III, the new regime of Frederick William IV was far more liberal. Spontini was dismissed, and the Berlin premiere of Les Huguenots was arranged (20 May 1842). On the instigation of Alexander von Humboldt, Meyerbeer was installed later in the year as Prussian Generalmusikdirektor and director of music for the Royal Court. Meyerbeer wrote a number of works for court occasions, and also provided music, at the King's request, for the first staging in Berlin in 1856 of his brother Michael's play Struensee (based on the life of Johann Friedrich Struensee), which had also been proscribed under the previous regime.In 1843, the Berlin Opera house burned down. The creation of the new building gave a new opportunity to commission a German opera from Meyerbeer. The subject of the opera, Ein Feldlager in Schlesien (A Silesian Encampment), was an episode in the life of Frederick the Great. As this patriotic opera 'needed' Prussian creators, Meyerbeer arranged that whilst the trusted Scribe would write the libretto, Rellstab would translate it and take the credit (and the royalties). This had the added advantage of winning over the formerly hostile Rellstab. Meyerbeer had hoped to have Jenny Lind (for whom he had written the part) sing the lead role of Vielka, but the opera premiered on 7 December 1844 without her (although she did appear in subsequent performances). The libretto was revised by Charlotte Birch-Pfeiffer to a Bohemian background as Vielka for a production in Vienna (1847). (In a further incarnation, the music was later used by Meyerbeer for a revamped libretto by Scribe featuring Peter the Great, and produced as an opéra comique in Paris (L'étoile du nord, 1854)).With the continuing delays in the production of Le prophète and L'Africaine, Meyerbeer was now becoming subject to increasing sniping in Paris. In 1846 Meyerbeer began work on a new project with Scribe and Saint-Georges, Noëma, but in the following year Pillet was sacked from the opera and the direction was resumed by Duponchel. As a consequence, Meyerbeer was at last able to stage Le prophète with a cast to his liking, (including Viardot as Fidès), and it premiered on 16 April 1849. Again Meyerbeer's new opera was an outstanding success – despite the unusual feature of the lead female role being the hero's mother, rather than his lover. Amongst those at the 47th performance in February 1850 was Richard Wagner, now an impoverished political exile; the success of a work so fundamentally against his own operatic principles was one of the spurs to his spiteful anti-Jewish denunciation of Meyerbeer and Mendelssohn, Das Judenthum in der Musik (1850). = Last years. = Increasing ill-health (or possibly hypochondria) now began to restrict Meyerbeer's output and activities. The death of his beloved mother in 1854 was also a blow. However the success of L'étoile du nord in 1854 demonstrated that he could still pack the theatres. Following this he began on two new projects, an opera by Scribe based on the biblical story of Judith, and an opéra comique, Le pardon de Ploërmel, (also known as Dinorah, the title given to the Italian version performed at London) to a libretto by Jules Barbier. The latter premiered on 4 April 1859 at the Opéra Comique at Paris; the former, like many previous projects, remained only as sketches. The death of Scribe in 1861 was a further disincentive to Meyerbeer to proceed with his operatic work in progress. In 1862, in accordance with his original contract with Scribe, he paid Scribe's widow compensation for not completing Judith.Nevertheless, Meyerbeer's last years saw the composition of a good deal of non-operatic music, including a Coronation March for William I of Prussia, (1861), an overture for the 1862 International Exhibition in London, and incidental music (now lost) to Henry Blaze de Bury's play La jeunesse de Goethe (1860). He composed a few settings of liturgical material, including one of the 91st Psalm (1853); and also choral works for the synagogue at Paris.Meyerbeer died in Paris on 2 May 1864. Rossini, who, not having heard the news, came to his apartment the next day intending to meet him, was shocked and fainted. He was moved to write on the spot a choral tribute (Pleure, pleure, muse sublime!). A special train bore Meyerbeer's body from the Gare du Nord to Berlin on 6 May, where he was buried in the family vault at the Jewish cemetery in Schönhauser Allee.L'Africaine was eventually premiered after Meyerbeer's death at the Salle Le Peletier on 28 April 1865 in a performing edition undertaken by François-Joseph Fétis.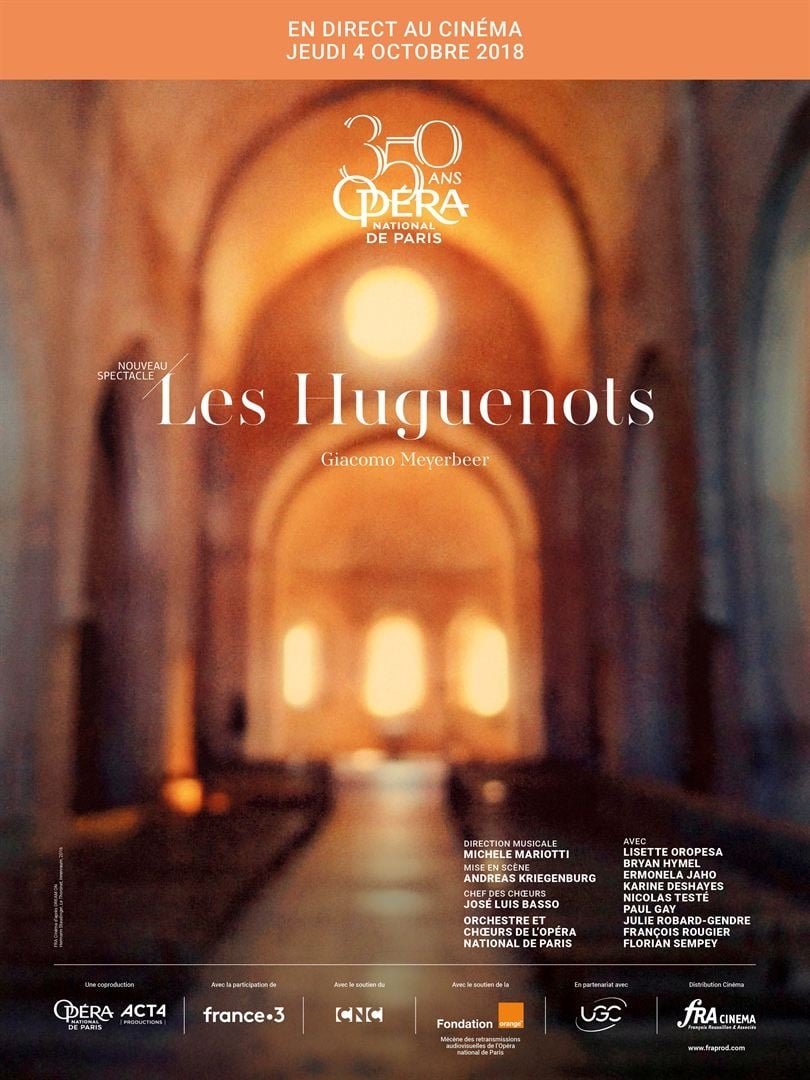 Opéra National de Paris: Meyerbeer's Les Huguenots
Les Huguenots is a monumental fresco featuring various impossible loves in the context of the Saint Bartholomew Massacre. Andreas Kriegenburg places these timeless conflicts of love and religion in an...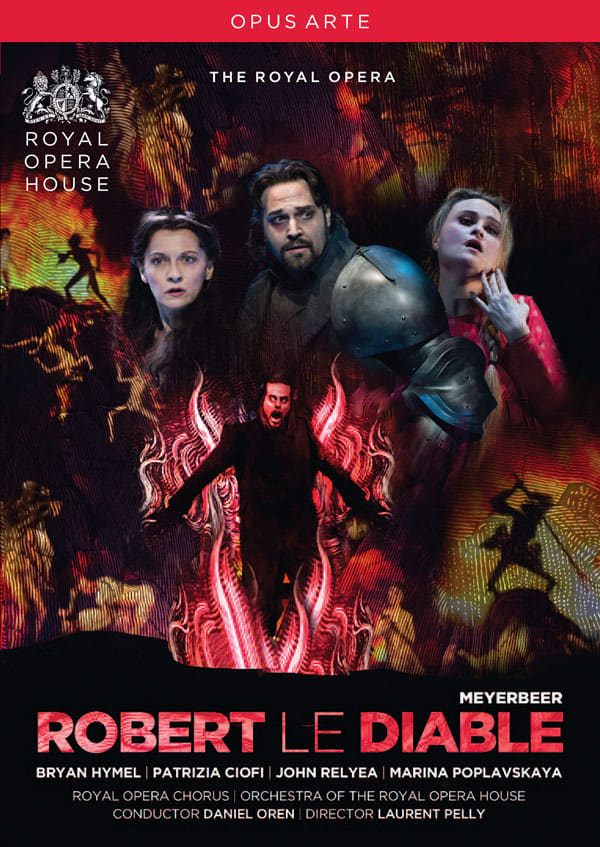 Robert le Diable
Recorded live at the Royal Opera House, December 2012. Daniel Oren conducting Royal Opera House Orchestra and Chorus. A grand opera that dominated the stages of Europe for most of the 19th century, R...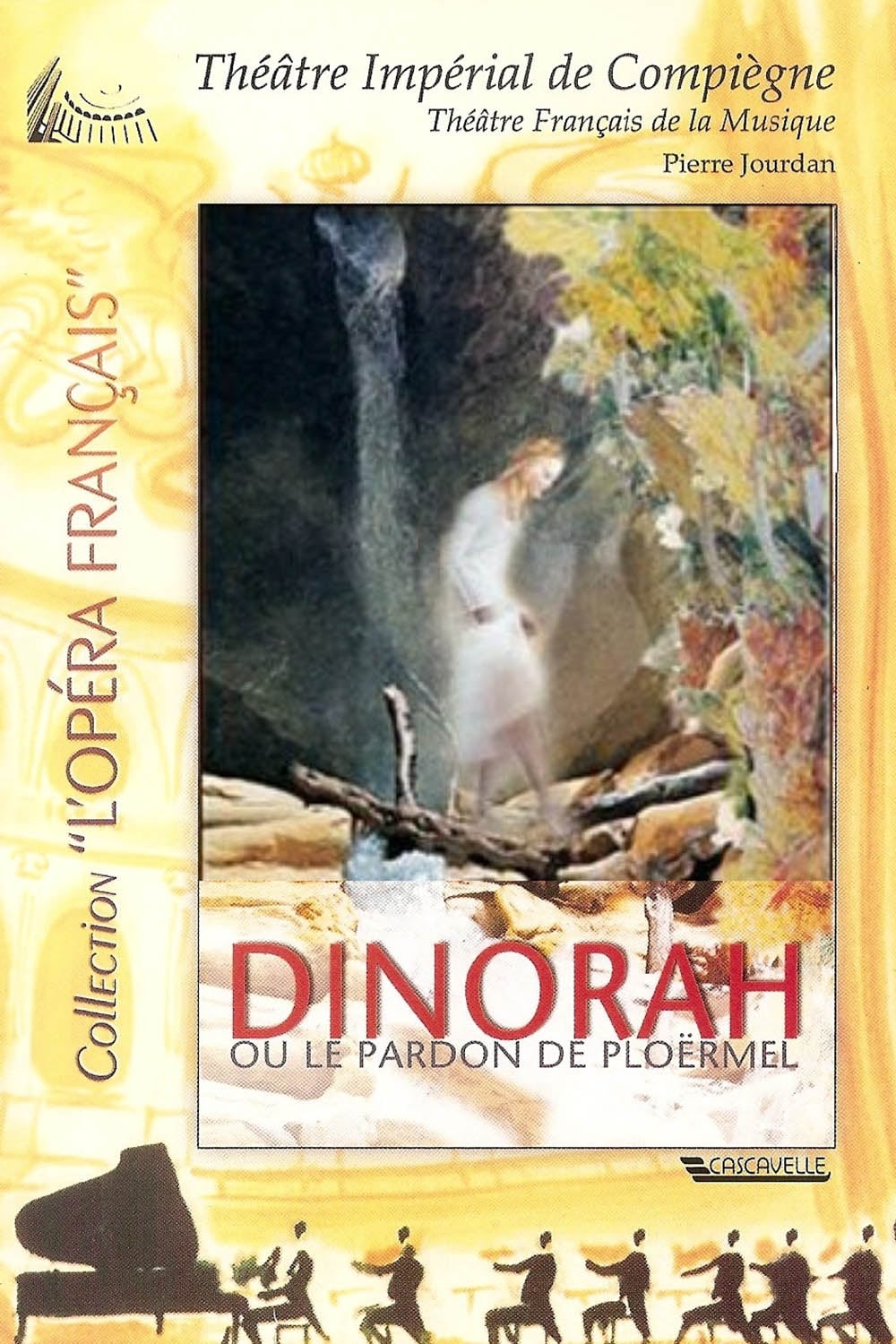 Dinorah, or The Pardon of Ploërmel
Giacomo Meyerbeer's pastoral opera,based on a Breton tale, is the tale of DINORAH who has gone mad because her bridegroom Hoël has disappeared during their wedding. This production, performed as part ... L'Africaine
This was a 1988 revival of a 1971 production that teamed Domingo (Vasco da Gama) and Verrett (Selika - both then very much in their prime) in Meyerbeer's discursive swan-song. Seventeen years on, they...