Biography
Jon Stewart (born Jonathan Stuart Leibowitz; November 28, 1962) is an American comedian, writer, producer, director, political commentator, actor, and television host. He hosted The Daily Show, a satirical news program on Comedy Central, from 1999 to 2015.Stewart started as a stand-up comedian but branched into television as host of Short Attention Span Theater for Comedy Central. He went on to host You Wrote It, You Watch It (1992–1993) and then The Jon Stewart Show (1993–1995), both on MTV, until The Jon Stewart Show was retooled, dropped by the network and moved to syndication. Stewart has also appeared in several films, including Big Daddy (1999) and Death to Smoochy (2002), but did few cinematic projects after becoming host of The Daily Show in 1999. He also was a writer and co-executive producer of the show. After Stewart joined, The Daily Show steadily gained popularity and critical acclaim, and during his tenure, won 22 Primetime Emmy Awards, two Grammy Awards and also was nominated for news and journalism awards. Stewart hosted the 78th and 80th Academy Awards. He is the co-author of America (The Book): A Citizen's Guide to Democracy Inaction, which was one of the best-selling books in the US in 2004, and Earth (The Book): A Visitor's Guide to the Human Race, released in 2010.Since leaving The Daily Show, Stewart has mostly maintained a low profile in entertainment industry circles, but has used his celebrity and voice in a sustained advocacy for 9/11 first responders, and also for war veterans' health benefits. In 2019 he received the New York City Bronze Medallion for his "tireless advocacy, inspiration, and leadership (helping to) pass the permanent authorization of the September 11th Victim Compensation Fund Act". Stewart now hosts The Problem with Jon Stewart, which premiered September 2021 on Apple TV+.
Personal Life
Stewart is irreligious, but of Jewish heritage.While making the 1997 film, Wishful Thinking, a production assistant on the film arranged for a blind date between Stewart and Tracey Lynn McShane. They dated for four years. Stewart proposed to her through a personalized crossword puzzle created with the help of Will Shortz, the crossword editor at The New York Times. They married in 2000. On June 19, 2001, Stewart and his wife filed a joint name change application and legally changed both of their surnames to "Stewart". With the help of in vitro fertilization, the couple has two children.In 2000, when he was labelled a Democrat, Stewart generally agreed, but described his political affiliation as "more socialist or independent" than Democratic, and Stewart has voted for Republicans, the last time being in the 1988 presidential election when he voted for George H. W. Bush over Michael Dukakis. He described Bush as having "an integrity about him that I respected greatly". He has been a vocal proponent of single-payer health care system.In 2013, Stewart and his wife bought a 12-acre (4.9 ha) farm in Middletown, New Jersey, called "Bufflehead Farm". The Stewarts operate it as a sanctuary for abused animals.In 2015, Stewart began eating a vegetarian diet for ethical reasons; his wife is a long-time vegan.In 2017, Stewart and his wife received approval to open a 45-acre (18 ha) animal sanctuary in Colts Neck, New Jersey, a home to animals saved from slaughterhouses and live markets.
Early Life
Jon Stewart was born Jonathan Stuart Leibowitz on November 28, 1962, in New York City, to Marian (née Laskin), a teacher and later educational consultant, and Donald Leibowitz, an energy coordinator for the New Jersey Department of the Treasury. Stewart's family members are Jewish immigrants to America from Poland, Ukraine, and Belarus. One of his grandfathers was born in Manzhouli (now part of Inner Mongolia). He is the second of four sons, with older brother Lawrence, and younger brothers Dan and Matthew.Stewart's parents divorced when he was eleven years old, and Stewart was largely estranged from his father. Because of his strained relationship with his father, which in 2015 he described as "still 'complicated'", he dropped his surname and began using his middle name. Stewart stated, "There was a thought of using my mother's maiden name, but I thought that would be just too big a fuck you to my dad... Did I have some problems with my father? Yes. Yet people always view [changing my surname] through the prism of ethnic identity." He had his surname changed legally to Stewart in 2001. Stewart and his brother Lawrence, who was previously the chief operating officer of NYSE Euronext (parent company of the New York Stock Exchange), grew up in Lawrenceville, New Jersey, where they attended Lawrence High School. According to Stewart, he was subjected to anti-Semitic bullying as a child. He describes himself in high school as "very into Eugene Debs and a bit of a leftist."Stewart grew up in the era of the Vietnam War and the Watergate scandal, which inspired in him "a healthy skepticism towards official reports". His first job was working with his brother at a Woolworth's store, and jokingly says being fired by Lawrence was one of the "scarring events" of his youth.Stewart graduated in 1984 from The College of William & Mary where he initially majored in chemistry before switching to psychology. While at William & Mary, Stewart became a member of the Pi Kappa Alpha fraternity, but eventually began disassociating himself from them; leaving the fraternity altogether after six months. "My college career was waking up late, memorizing someone else's notes, doing bong hits, and going to soccer practice", he later said. He was a three-year starter in 1981, 1982 and 1983 with the Tribe men's soccer team. He had 10 goals and 12 assists on a squad that went 40–15–9 (.695) in his three seasons with the program. He is listed as Jon Leibowitz in official William & Mary Athletics records. The former head coach of the Tribe men's soccer team from 1971 to 2003, Al Albert, describes Jon as "athletic and feisty and quick" and added that he "wasn't the most technical or clinical player, but he could make things happen."After college, Stewart held numerous jobs: a contingency planner for the New Jersey Department of Human Services, a contract administrator for the City University of New York, a puppeteer for children with disabilities, a soccer coach at Gloucester High School in Virginia, a caterer, a busboy, a shelf stocker at Woolworth's, a bartender at the Franklin Corner Tavern (a local blue-collar bar), and a bartender at the legendary City Gardens in Trenton, New Jersey. He has said that working at City Gardens was a pivotal moment for him: "finding this place City Gardens was like, 'Oh, maybe I'm not a giant weirdo. Maybe there are other people who have a similar sense of yearning for something other than what they have now.' I think it inspired a lot of people, man. It was a very creative environment. It was a place of great possibility."
Filmography
Information
Known for
Acting
Gender
Male
Birthday
1962-11-28 (59 years old)
Birth name
Jonathan Stuart Leibowitz
Place of birth
Manhattan, United States of America
Religion
Judaism
Citizenships
United States of America
Also known as
Jonathan Stuart Leibowitz
Awards
Primetime Emmy Award for Outstanding Variety, Music or Comedy Series, Orwell Award, Primetime Emmy Award for Outstanding Writing for a Variety, Music or Comedy Program, Peabody Awards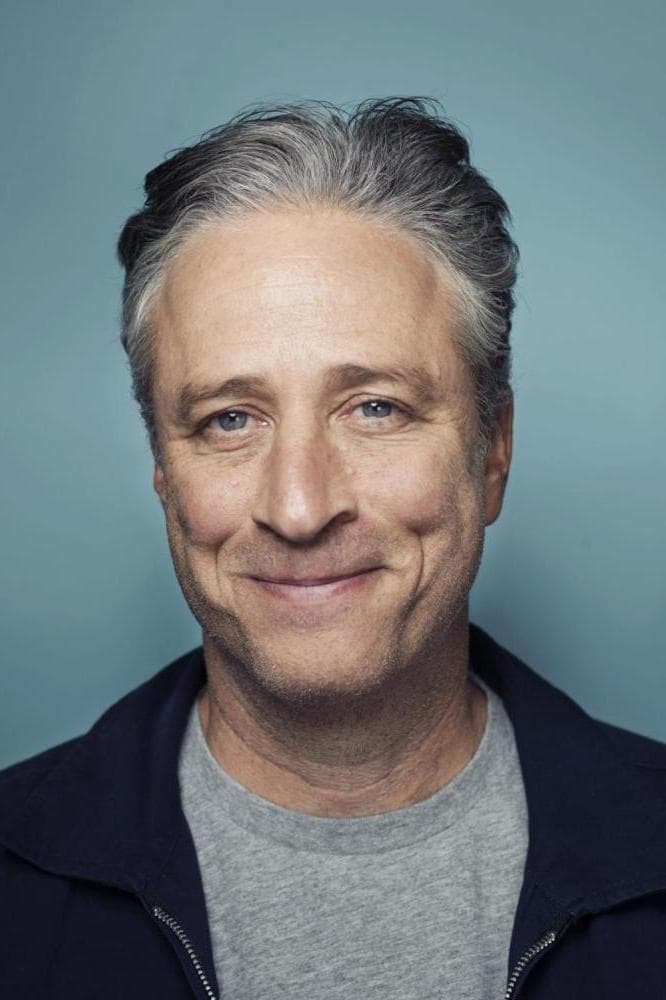 Jon Stewart
Check gifts on Amazon