Discover Movies and TV shows that fit You with our Mobile Application Biography
Early life. Edward Plunkett (Dunsany), known to his family as "Eddie," was the first son of John William Plunkett, 17th Baron of Dunsany (1853–1899), and his wife, Ernle Elizabeth Louisa Maria Grosvenor Ernle-Erle-Drax, née Ernle Elizabeth Louisa Maria Grosvenor Burton (1855–1916).From a historically wealthy and famous family, Lord Dunsany was related to many well-known Irish figures. He was a kinsman of the Catholic Saint Oliver Plunkett, the martyred Archbishop of Armagh whose ring and crozier head are still held by the Dunsany family. He was also related to the prominent Anglo-Irish unionist and later nationalist / Home Rule politician Sir Horace Plunkett and George Count Plunkett, Papal Count and Republican politician, father of Joseph Plunkett, executed for his part in the 1916 Rising. His mother was a cousin of Sir Richard Burton, and he inherited from her considerable height, being 6'4". The Countess of Fingall, wife of Dunsany's cousin, the Earl of Fingall, wrote a best-selling account of the life of the aristocracy in Ireland in the late 19th century and early 20th century called Seventy Years Young. Plunkett's only grown sibling, a younger brother, from whom he was estranged from around 1916, for reasons not fully clear but connected to his mother's will, was the noted British naval officer Sir Reginald Drax. Another younger brother died in infancy. Edward Plunkett grew up at the family properties, most notably Dunstall Priory in Shoreham, Kent, and Dunsany Castle in County Meath, but also family homes such as in London. His schooling was at Cheam, Eton College and finally the Royal Military College, Sandhurst, which he entered in 1896. Title and marriage. The title passed to him at his father's death at a fairly young age, in 1899, and the young Lord Dunsany returned to Dunsany Castle after war duty, in 1901. In that year he was also confirmed as an elector for the Representative Peers for Ireland in the House of Lords. In 1903, he met Lady Beatrice Child Villiers (1880–1970), youngest daughter of The 7th Earl of Jersey (head of the Jersey banking family), who was then living at Osterley Park, and they were married in 1904. Their only child, Randal, was born in 1906. Beatrice was supportive of Dunsany's interests and assisted him in his writing by typing his manuscripts, helping to select work for his collections, including the 1954 retrospective short story collection, and overseeing his literary heritage after his death. The Dunsanys were socially active in both Dublin and London and travelled between their homes in Meath, London and Kent, other than during World Wars I and II and the Irish War of Independence. Dunsany himself circulated with many other literary figures of the time. To many of these in Ireland he was first introduced by his uncle, the co-operative pioneer Sir Horace Plunkett, who also helped to manage his estate and investments for a time. He was friendly with, for example, George William Russell, Oliver St. John Gogarty and, for a time, W. B. Yeats. He also socialised at times with George Bernard Shaw and H.G. Wells and was a friend of Rudyard Kipling. In 1910 Dunsany commissioned a two-storey extension to Dunsany Castle, with a billiards room, bedrooms and other facilities. The billiards room includes the crests of all the Lords Dunsany up to the 18th. Military experience. Dunsany served as a Second Lieutenant in the Coldstream Guards during the Second Boer War. He volunteered in the First World War and was appointed Captain in the Royal Inniskilling Fusiliers. He was stationed for some time at Ebrington Barracks in Derry. Having heard of disturbances in Dublin in 1916, during the Easter Rising, while on leave, he drove in to offer assistance and was wounded, with a bullet lodged in his skull. After recovery at Jervis Street Hospital and later what was then the King George V Hospital (now St. Bricin's Military Hospital), he returned to duty. His military belt was lost in this episode and was later used at the burial of Michael Collins. Having been refused forward positioning in 1916, being listed as valuable as a trainer, in the latter stages of the war he spent time in the trenches and in the very last period wrote propaganda material for the War Office with MI7b(1). At Dunsany Castle there is a book of wartime photos with lost members of his command marked. During the Irish War of Independence, Dunsany was charged with violating the Restoration of Order in Ireland Regulations, tried by court-martial on 4 February 1921, convicted, and sentenced to pay a fine of 25 pounds or serve three months in prison without labour. The Crown Forces had searched Dunsany Castle and had found two double-barrelled shotguns, two rook rifles, four Very pistols, an automatic pistol, and a large quantity of pistol ammunition, along with shotgun and rifle ammunition.During the Second World War, Dunsany signed up for the Irish Army Reserve and the British Home Guard, the two countries' local defence forces, and was especially active in Shoreham, Kent, the most-bombed village in England during the Battle of Britain. Literary life. Dunsany's fame arose chiefly from his prolific writings, and he was involved with the Irish Literary Revival. Supporting the Revival, Dunsany was a major donor to the Abbey Theatre, and he moved in Irish literary circles. He was well acquainted with W. B. Yeats (who rarely acted as editor but gathered and published a Dunsany selection), Lady Gregory, Percy French, "AE" Russell, Oliver St John Gogarty, Padraic Colum (with whom he jointly wrote a play) and others. He befriended and supported Francis Ledwidge, to whom he gave the use of his library and Mary Lavin. Dunsany made his first literary tour to the United States in 1919 and made further such visits right up to the 1950s, in the early years mostly to the eastern seaboard and later, notably, to California. Dunsany's own work, and contribution to the Irish literary heritage, was recognised through an honorary degree from Trinity College, Dublin. Early 1940s. In 1940, Dunsany was appointed Byron Professor of English in Athens University, Greece. Having reached Athens by a circuitous route, he was so successful that he was offered a post as Professor of English in Istanbul. However, he had to be evacuated due to the German invasion of Greece in April 1941, returning home by an even more complex route than he had come, his travels forming a basis for a long poem published in book form (A Journey, in 5 cantos: The Battle of Britain, The Battle of Greece, The Battle of the Mediterranean, Battles Long Ago, The Battle of the Atlantic; Special edition January 1944). Olivia Manning's character, "Lord Pinkrose", in her novel sequence, the Fortunes of War, was a mocking portrait of Dunsany during this period. Later life. In 1947, Dunsany transferred his Meath estate to his son and heir under a trust, and settled in Kent, at his Shoreham house, Dunstall Priory and farm, not far from the home of Rudyard Kipling, a friend. He visited Ireland only occasionally thereafter, and engaged actively in life in Shoreham and London. He also began a new period of visits to the United States, notably California, as recounted in Hazel Littlefield-Smith's biographical "Dunsany, King of Dreams." Death. In 1957, Lord Dunsany became ill while eating with the Earl and Countess of Fingall at Dunsany, in what proved to be an attack of appendicitis, and died in hospital in Dublin at the age of 79. He had directed that he be buried in the churchyard of the ancient church of St. Peter and St. Paul, Shoreham, Kent, in memory of shared war times. His funeral was attended by a wide range of family (including the Pakenhams, Jerseys and Fingals) and Shoreham figures, and representatives of his old regiment and various bodies in which he had taken an interest. A memorial service was held at Kilmessan in Meath with a reading of Crossing the Bar, which was noted as coinciding with a passing flock of geese. Lady Beatrice survived Lord Dunsany, living on primarily at Shoreham, overseeing his literary legacy until her death in 1970, while their son, Randal, succeeded him in the Barony, and was in turn succeeded by his grandson, the artist Edward Plunkett, to whom literary rights passed directly. Interests. Aside from his literary work, Dunsany was a keen chess player, set chess puzzles for journals including The Times (of London), played José Raúl Capablanca to a draw (in a simultaneous exhibition), and also invented Dunsany's Chess, an asymmetric chess variant that is notable for not involving any fairy pieces, unlike many variants that require the player to learn unconventional piece movements. He was president of both the Irish Chess Union and the Kent County Chess Association for some years and of Sevenoaks Chess Club for 54 years. Dunsany was a keen horseman and hunter, for many years hosting the hounds of a local hunt as well as hunting in parts of Africa, and sportsman and was at one time the pistol-shooting champion of Ireland. Dunsany also campaigned for animal rights, being known especially for his opposition to the "docking" of dogs' tails, and was president of the West Kent branch of the RSPCA in his later years. He enjoyed cricket, provided the local cricket ground situated near Dunsany Crossroads, and later played for and presided at Shoreham Cricket Club in Kent. He was a supporter of Scouting over many years, serving as President of the Sevenoaks district Boy Scouts Association. He also supported the amateur drama group the Shoreham Players. Dunsany provided support for the British Legion in both Ireland and Kent, including grounds in Trim and poetry for the Irish branch's annual memorial service on a number of occasions.
Career
The then Edward Plunkett began his authorial career in the late 1890s with a few published verses, such as "Rhymes from a Suburb" and "The Spirit of the Bog", but he made a lasting impression in 1905 when he burst onto the publishing scene, writing as Lord Dunsany, with the well-received collection The Gods of Pegāna. Early fantasy. Dunsany's most notable fantasy short stories were published in collections from 1905 to 1919, though fantasy as a genre did not yet exist, so they were just a curious form of literature. He paid for the publication of the first collection, The Gods of Pegāna, earning a commission on sales. This he never again had to do, the vast majority of his extensive writings selling.The stories in his first two books, and perhaps the beginning of his third, were set within an invented world, Pegāna, with its own gods, history and geography. Starting with this book, Dunsany's name is linked to that of Sidney Sime, his chosen artist, who illustrated much of his work, notably until 1922. Style. Dunsany's style varied significantly throughout his writing career. Prominent Dunsany scholar S. T. Joshi has described these shifts as Dunsany moving on after he felt he had exhausted the potential of a style or medium. From the naïve fantasy of his earliest writings, through his early short-story work in 1904–1908, he turned to the self-conscious fantasy of The Book of Wonder in 1912, in which he almost seems to be parodying his lofty early style. Each of his collections varies in mood; A Dreamer's Tales varies from the wistfulness of "Blagdaross" to the horrors of "Poor Old Bill" and "Where the Tides Ebb and Flow" to the social satire of "The Day of the Poll." The opening paragraph of "The Hoard of the Gibbelins" from The Book of Wonder, (1912) gives a good indication of both the tone and tenor of Dunsany's style at the time: The Gibbelins eat, as is well known, nothing less good than man. Their evil tower is joined to Terra Cognita, to the lands we know, by a bridge. Their hoard is beyond reason; avarice has no use for it; they have a separate cellar for emeralds and a separate cellar for sapphires; they have filled a hole with gold and dig it up when they need it. And the only use that is known for their ridiculous wealth is to attract to their larder a continual supply of food. In times of famine they have even been known to scatter rubies abroad, a little trail of them to some city of Man, and sure enough their larders would soon be full again.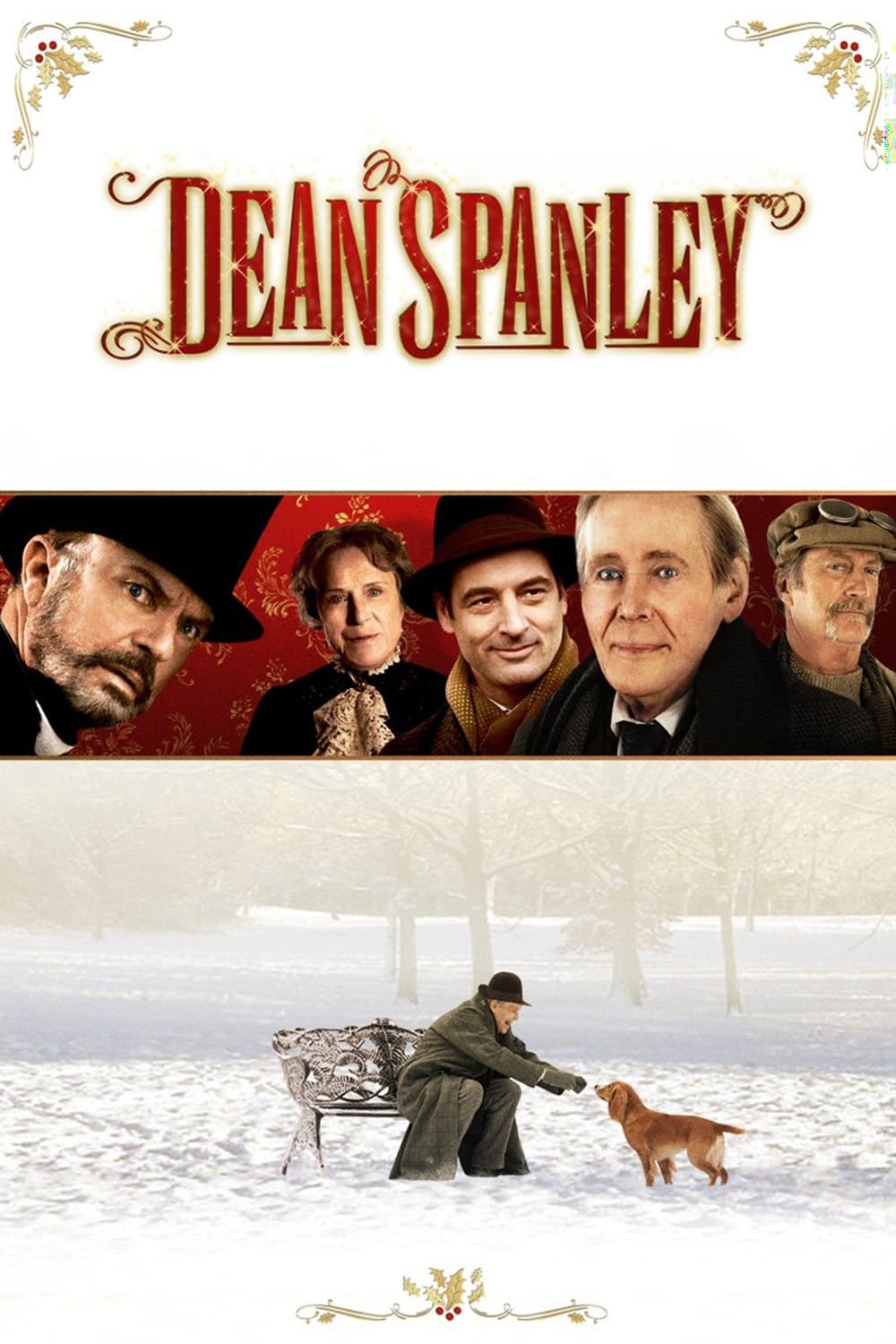 Dean Spanley
Set in Edwardian England where upper lips are always stiff and men from the Colonies are not entirely to be trusted, Fisk Senior has little time or affection for his son, but when the pair visit an ec...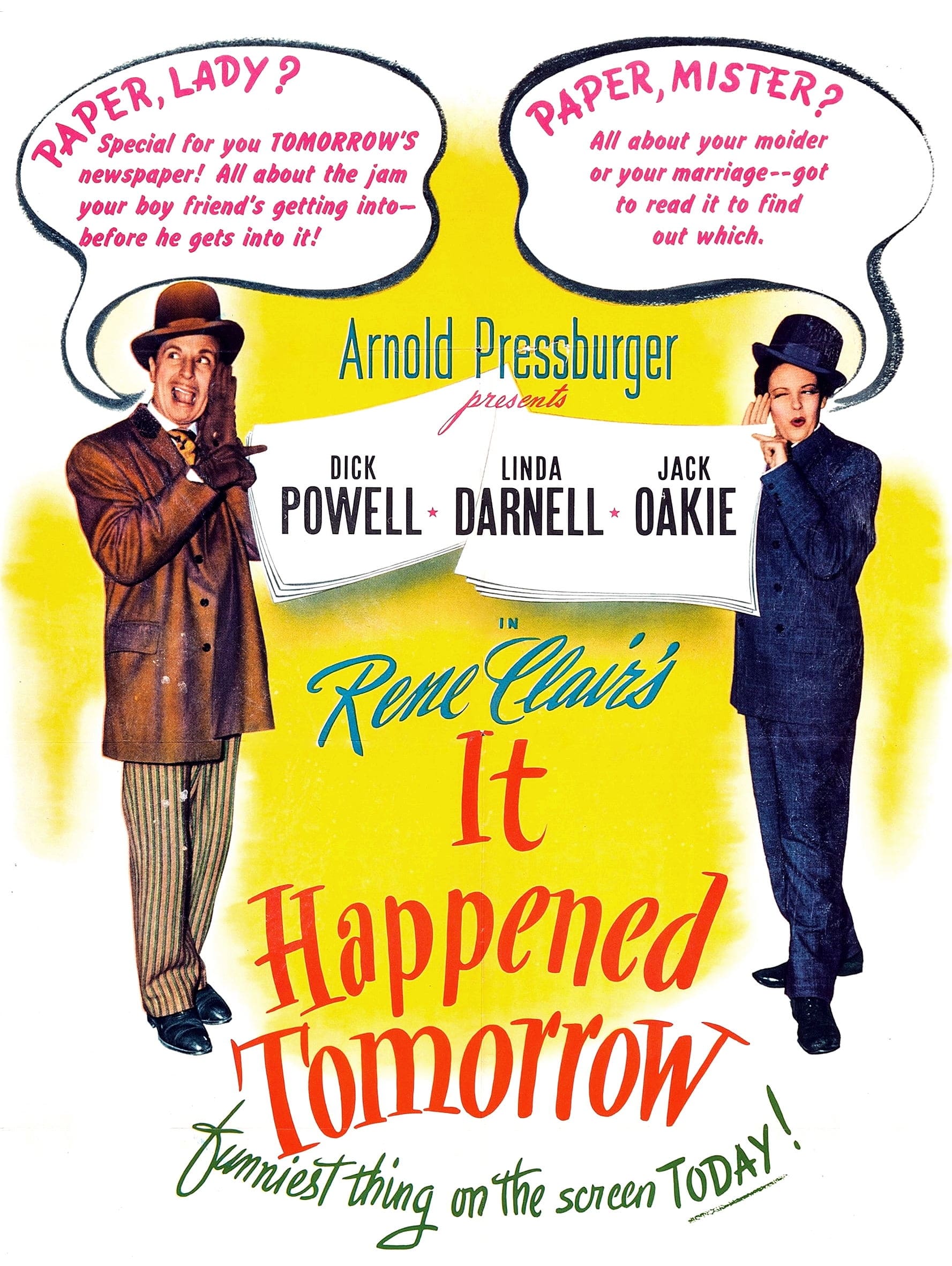 It Happened Tomorrow
A young turn-of-the-century newspaper man finds he can get hold of the next day's paper. This brings more problems than fortune, especially as his new girlfriend is part of a phony clairvoyant act.