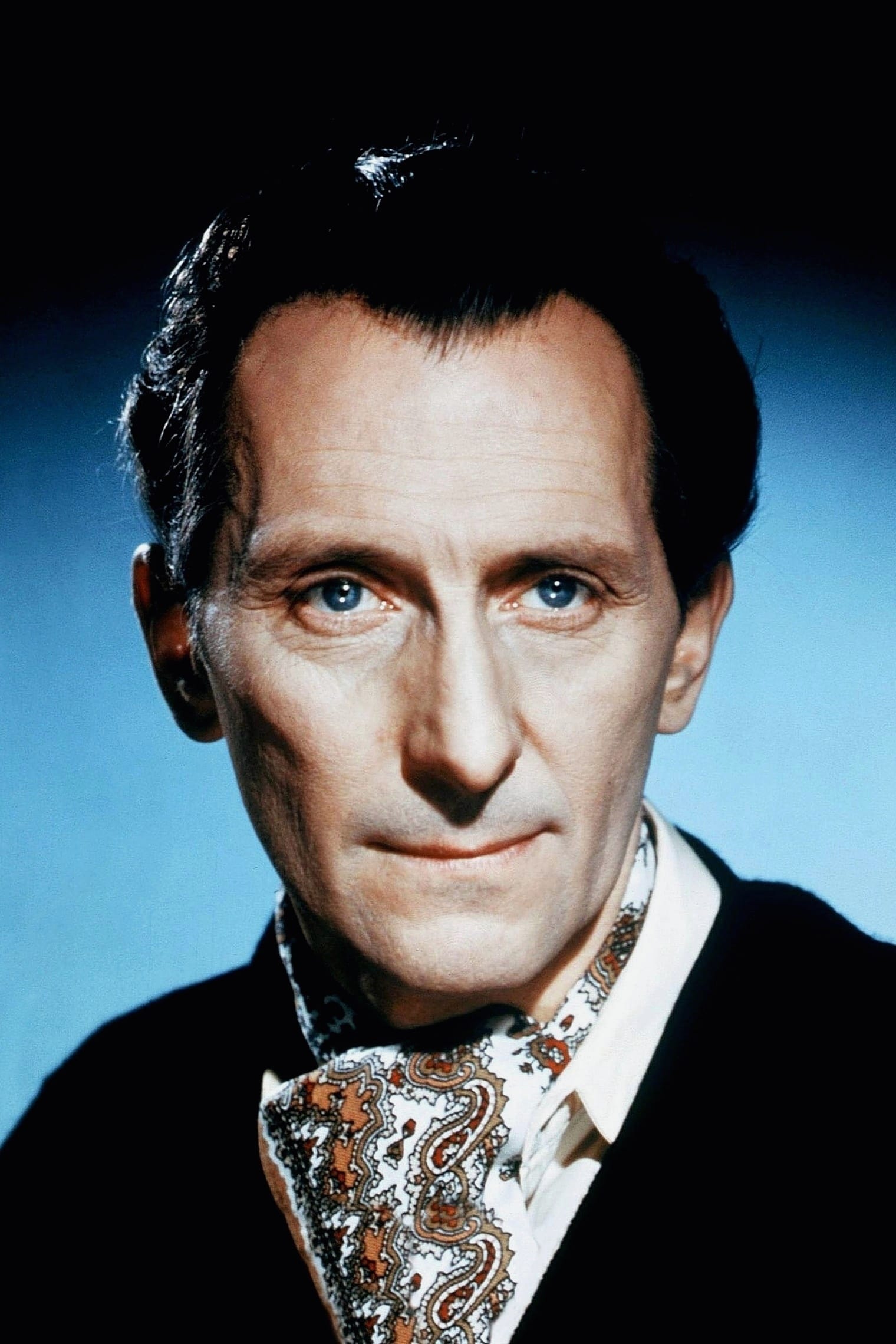 Peter Cushing
Known For: Acting · Birthday: 1913-05-26 · Deathday: 1994-08-11 (81 years old) · Gender: Male · Place of Birth: Kenley, Surrey, England, UK
Also Known As: Peter Wilton Cushing
Peter Wilton Cushing, (26 May 1913 – 11 August 1994) was an English actor best known for his roles in the Hammer Productions horror films of the 1950s, 1960s, and 1970s, and as Grand Moff Tarkin in the 1977 film Star Wars. His acting career spanned over six decades and included appearances in more than 100 films, as well as many television, stage and radio roles. Born in Kenley, Surrey, Cushing made his stage debut in 1935 and spent three years at a repertory theatre before moving to Hollywood to pursue a film career.After making his motion picture debut in the film The Man in the Iron Mask (1939), Cushing began to find modest success in American films before returning to England at the outbreak of the Second World War. Despite performing in a string of roles, including one as Osric in Laurence Olivier's film adaptation of Hamlet (1948), Cushing struggled greatly to find work during this period and began to consider himself a failure. His career was revitalised once he started to work in live television plays, and he soon became one of the most recognisable faces in British television. He earned particular acclaim for his lead performance in a BBC Television adaptation of George Orwell's Nineteen Eighty-Four (1954).Cushing gained worldwide fame for his appearances in 22 horror films from the Hammer studio, particularly for his role as Baron Frankenstein in six of their seven Frankenstein films, and Doctor Van Helsing in five Dracula films. Cushing often appeared alongside actor Christopher Lee, who became one of his closest friends, and occasionally with the American horror star Vincent Price. Cushing appeared in several other Hammer films, including The Abominable Snowman (1957), The Mummy and The Hound of the Baskervilles (both 1959), the last of which marked the first of the several occasions he portrayed the famous detective Sherlock Holmes. Cushing continued to perform in a variety of roles, although he was often typecast as a horror film actor. He played Dr. Who in Dr. Who and the Daleks (1965) and Daleks' Invasion Earth 2150 A.D. (1966) and gained the highest amount of visibility in his career with his part in the original Star Wars film. Cushing continued acting into his later years, and wrote two autobiographies. He was married to Helen Cushing for 28 years before she died in 1971. Cushing died in 1994 of prostate cancer.
Cushing had a variety of interests outside acting, including collecting and battling model soldiers, of which he owned over five thousand. He hand painted many and used the Little Wars rule set by H. G. Wells for miniature wargaming.He also loved games and practical jokes, and enjoyed drawing and painting watercolours, the latter of which he did especially often in his later years. After his wife's death Cushing visited several churches and spoke to religious ministers, but was dissatisfied by their reluctance to discuss death and the afterlife, and never joined an organized religion. He nevertheless maintained a belief in both God and an afterlife. He was an ardent vegetarian for most of his life who served as a patron with the Vegetarian Society from 1987 until his death. He also had a great interest in ornithology and wildlife in general. He suffered from nyctophobia from early in his life, but in his later years overcame this by forcing himself to take walks outside after midnight.Peter Cushing was known among his colleagues for his gentle and gentlemanly demeanour, as well as his professionalism and rigorous preparation as an actor. Cushing once said he learned his parts "from cover to cover" before filming began. His co-stars and colleagues often spoke of his politeness, charm, old-fashioned manners and sense of humour. While working, he actively provided feedback and suggestions on other elements beyond his performance, such as dialogue and wardrobe. At times, this put him at odds with writers and producers; Hammer Studios producer Anthony Hinds once declared him a "fusspot [and] terrible fusser about his wardrobe and everything, but never a difficult man."Although he appeared in both television and stage productions, Cushing preferred the medium of film, which allowed his perfectionist nature to work out the best performance possible. He did not enjoy the repetitive nature of stage performances, and once compared it to a painter being forced to paint the same picture every day. Cushing himself was not a particular fan of horror or science fiction films, but he tended to choose roles not based on whether he enjoyed them, but whether he felt his audience would enjoy him in them. However, Cushing was very proud of his experiences with the Hammer films, and never resented becoming known as a horror actor. He always took the roles seriously and never portrayed them in a campy or tongue-in-cheek style because he felt it would be insulting to his audience.In 1971 Cushing's wife died; they had been married since 1943. Cushing often said he felt his life had ended when hers did, and he was so crushed that when his first autobiography was published in 1986, it made no mention of his life after her death. In 1972, he was quoted in the Radio Times as having said, "Since Helen passed on I can't find anything; the heart, quite simply, has gone out of everything. Time is interminable, the loneliness is almost unbearable and the only thing that keeps me going is the knowledge that my dear Helen and I will be reunited again some day. To join Helen is my only ambition. You have my permission to publish that ... really, you know, dear boy, it's all just killing time. Please say that."In his autobiography, Cushing implies that he attempted suicide on the night of his wife's death by running up and down stairs in the vain hope that it would induce a heart attack. He later stated that this had simply been a hysterical response borne out of grief, and that he had not purposely attempted to end his life; a poem left by Helen had implored him not to die until he had lived his life to the full, and he had resolved that to commit suicide would have meant letting her down. Cushing's colleagues of that period commented on his faith and his conviction that his separation from his wife was only temporary.The effects of his wife's death proved to be as much physical as mental. For his role in Dracula A.D. 1972, Cushing had originally been cast as the father of Stephanie Beacham's character, but had aged so visibly and lost so much weight that the script was hastily re-written to make him her grandfather: it was done again in the last Dracula film from Hammer, The Satanic Rites of Dracula. In a silent tribute to Helen, a shot of Van Helsing's desk includes a photograph of her. He repeated the role of the man who lost family in other horror films, including Asylum (1972), The Creeping Flesh (1973), and The Ghoul (1975).
Peter Wilton Cushing was born in Kenley, a district in the English county of Surrey, on 26 May 1913 to George Edward Cushing (1881–1956) and Nellie Marie (née King) Cushing (1882–1961); he was the younger of two boys – his brother George was three years older. His mother had so hoped for a daughter that for the first few years of his life, she dressed Peter in girls' frocks, let his hair grow in long curls and tie them in bows of pink ribbon, so others often mistook him for a girl.His father, a quantity surveyor from an upper-class family, was a reserved and uncommunicative man whom Peter said he never got to know very well. His mother was the daughter of a carpet merchant and considered of a lower class than her husband. Cushing's family consisted of several stage actors, including his paternal grandfather Henry William Cushing (who toured with Henry Irving), his paternal aunt Maude Ashton and his step-uncle Wilton Herriot, after whom Peter Cushing received his middle name.The Cushing family lived in Dulwich during the First World War, but moved to Purley after the war ended in 1918. Although raised during wartime, Cushing was too young to understand or become greatly affected by it, and was shielded from the horrors of war by his mother, who encouraged him to play games under the kitchen table whenever the threat of possible bombings arose. In his infancy, Cushing twice developed pneumonia and once what was then known as "double pneumonia." Although he survived, the latter was often fatal during that period. During one Christmas in his youth, Cushing saw a stage production of Peter Pan, which served as an early source of inspiration and interest in acting. Cushing loved dressing up and make believe from an early age, and later claimed he always wanted to be an actor, "perhaps without knowing at first." A fan of comics and toy collectibles in his youth, Cushing earned money by staging puppet shows for family members with his glove-puppets and toys.He began his early education in Dulwich, South London, before attending the Shoreham Grammar School in Shoreham-by-Sea, on the Sussex coast between Brighton and Worthing. Prone to homesickness, he was miserable at the boarding school and spent only one term there before returning home. He attended the Purley County Grammar School, where he swam and played cricket and rugby. With the exception of art, Cushing was a self-proclaimed poor student in most subjects and had little attention span for that which did not interest him. He got fair grades only through the help of his brother, a strong student who did his homework for him. Cushing harboured aspirations for the arts all throughout his youth, especially acting. His childhood inspiration was Tom Mix, an American film actor and star of many Western films. D.J. Davies, the Purley County Grammar School physics teacher who produced all the school's plays, recognised some acting potential in him and encouraged him to participate in the theatre, even allowing Cushing to skip class to paint sets. He played the lead in nearly every school production during his teenage years, including the role of Sir Anthony Absolute in a 1929 staging of Richard Brinsley Sheridan's comedy of manners play, The Rivals.Cushing wanted to enter the acting profession after school, but his father opposed the idea, despite the theatrical background of several of his family members. Instead, seizing upon Cushing's interest in art and drawing, he got his son a job as a surveyor's assistant in the drawing department of the Coulsdon and Purley Urban District Council's surveyor's office during the summer of 1933. Cushing hated the job, where he remained for three years without promotion or advancement due to his lack of ambition in the profession. The only enjoyment he got out of it was drawing prospectives of proposed buildings, which were almost always rejected because they were too imaginative and expensive and lacked strong foundations, which Cushing disregarded as a "mere detail."Thanks to his former teacher Davies, Cushing continued to appear in school productions during this time, as well as amateur plays such as W.S. Gilbert's Pygmalion and Galatea, George Kelly's The Torch-Bearers, and The Red Umbrella, by Brenda Girvin and Monica Cosens. Cushing often learned and practised his lines in an attic at work, under the guise that he was putting ordnance survey maps into order. He regularly applied for auditions and openings for roles he found in the arts-oriented newspaper The Stage, but was turned down repeatedly due to his lack of professional experience in the theatre.