A Star Is Bored
Status: Released
Running time: 7m
Plot
.
Daffy Duck must double for Bugs in any slapstick which Warners considers too dangerous for its star Bug Bunny.
Where To Watch
.
No streaming offers found
Gallery
.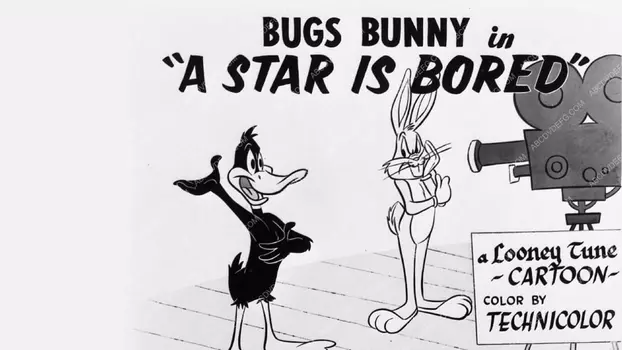 Wiki
.
A Star Is Bored is a 1956 Warner Bros. Looney Tunes cartoon, directed by Friz Freleng. The short was released on September 15, 1956, and stars Bugs Bunny and Daffy Duck. The cartoon expands upon the rivalry depicted between Bugs and Daffy, in such films as Chuck Jones' 1951 short Rabbit Fire, this time placing the action in a show-biz setting. In this 7-minute short, Daffy must double for Bugs in any slapstick that Warners deems too dangerous for its top star. After each disaster, Daffy shouts "MAKEUP!". The director directing the scenes has an Erich Von Stroheim accent.This is one of the only four Warner Bros. shorts (the others being This Is a Life?, Invasion of the Bunny Snatchers, and [Blooper] Bunny) in which Bugs is paired with each of his three main antagonists (Daffy, Elmer Fudd, and Yosemite Sam).The title is a play on the film A Star Is Born.