Walking with Monsters
Genre: 
Status: Released
Running time: 1h 27m
Content Rating: G
Plot
.
Many people think of the dinosaurs as the first inhabitants of the earth, but this prequel to the acclaimed "Walking with Dinosaurs" puts viewers in the midst of a host of strange creatures that inhabited the earth millions of years before the dinosaurs ever existed.Starting from the Cambrian Period (530 MYA) and ending at the Early Triassic Period (248 MYA), Walking With Monsters shows the life and death struggles of the fantastic creatures that existed before the dinosaurs.
Where To Watch
.
No streaming offers found
Gallery
.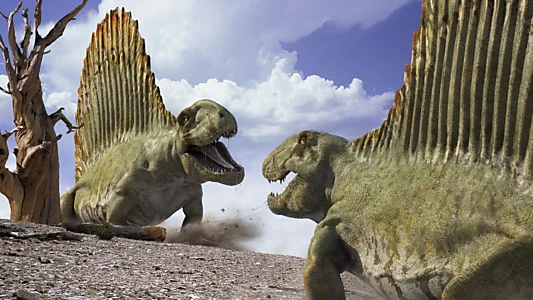 Wiki
.
Walking with Monsters – Life Before Dinosaurs, marketed as Before the Dinosaurs – Walking with Monsters in North America, is a 2005 three-part nature documentary television miniseries created by Impossible Pictures and produced by the BBC Natural History Unit, the Discovery Channel, ProSieben and France 3. Walking with Monsters explores life in the Paleozoic era, showcasing the early development of groups such as arthropods, fish, amphibians, reptiles and synapsids. Like its predecessors Walking with Dinosaurs (1999) and Walking with Beasts (2001), Walking with Monsters is narrated by Kenneth Branagh.


Walking with Monsters is the final installment in the Walking with... series of documentaries and was envisioned as completing the series' so-called "Trilogy of Life", the previous Walking with Dinosaurs and Walking with Beasts having explored the Mesozoic and Cenozoic, respectively. Like its predecessors, Walking with Monsters employs computer-generated imagery and animatronics, as well as live action footage shot at various locations, to reconstruct prehistoric life and environments. Owing to being the latest installment, the CGI in Walking with Monsters is more sophisticated, which also contributed to a heavier reliance on CGI than animatronics than in previous series. In total, over 600 scientists were consulted for advise during the production of Walking with Monsters.


Although Walking with Monsters attracted the least viewers out of any Walking with... series during its original airing and received more mixed reviews, the series won an Emmy Award for Outstanding Animated Program (For Programming One Hour or More). It was also nominated for a BAFTA TV Award for Best Visual Effects. Walking with Monsters was for some broadcasts (including its first) also edited together as a single 90-minute documentary film.


Look at the other titles that might be interesting for you