Red Riding Hoodwinked
Status: Released
Running time: 7m
Plot
.
Red Riding Hood is on her way from the city to the country, to visit Granny. She's bringing Tweety Bird to Granny as a gift - which attracts Sylvester's attention. Along the way she also meets the Big Bad Wolf. Sylvester wants to eat Tweety. Big Bad wants to eat Red.
Where To Watch
.
No streaming offers found
Gallery
.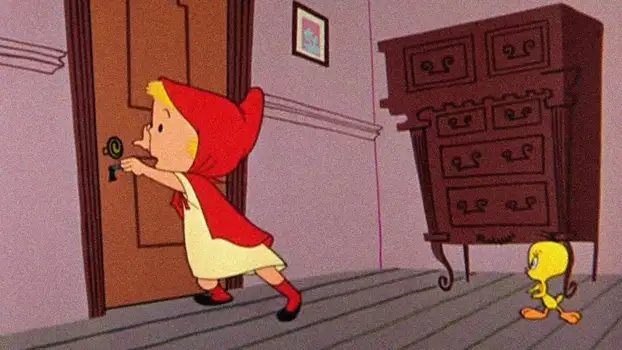 Wiki
.
Red Riding Hoodwinked is a "Looney Tunes" cartoon animated short starring Tweety and Sylvester. Released October 29, 1955, the cartoon is directed by Friz Freleng.: 279  The voices are performed by Mel Blanc and June Foray.


The cartoon was Warner Bros.' latest adaptation of the "Little Red Riding Hood" children's story, with the Big Bad Wolf and Granny playing their respective roles, with Tweety and Sylvester taking appropriate sides.


Unlike her previous appearances, the usually cheerful Granny here is a female caricature of Ralph Kramden (of television's The Honeymooners), complete with ill-temperedness and use of the catchphrase, "One of these days, one of these days...POW! Right in the kisser!" As such, "Red Riding Hoodwinked" marked one of the earliest parodies of The Honeymooners. In addition, Granny's appearance is updated: although she appears as a sourpuss here, her physical attributes (such as a less-pronounced chin) would be used in future appearances. Also, Granny's old-fashioned ways would be de-emphasized.


The wolf character would re-appear in "Hare-Less Wolf", albeit designed differently and given the name Charles M. Wolf.