Discover Movies and TV Series that fit You with our Mobile Application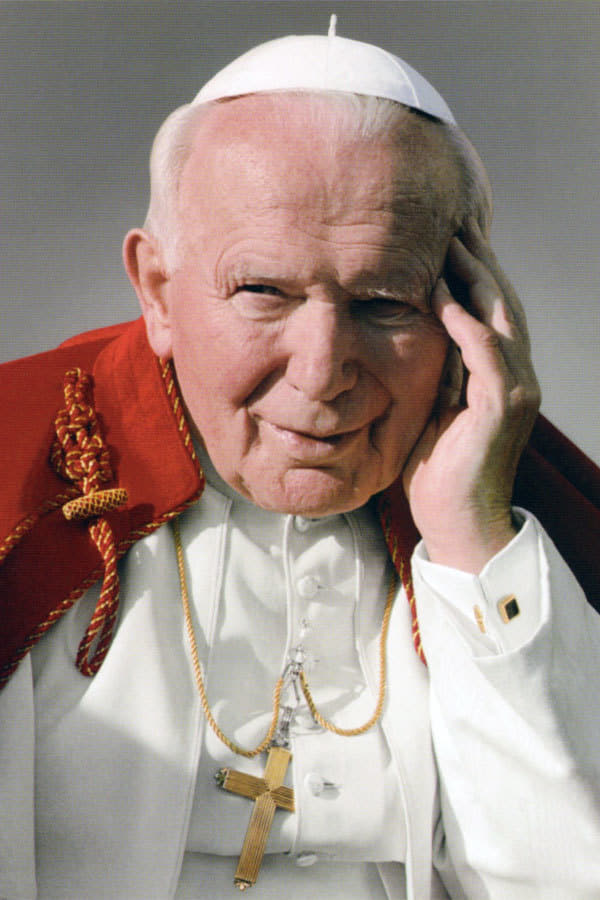 Pope John Paul II
Known For: Acting · Birthday: 1920-05-18
Check on Amazon
Biography
Pope John Paul II (Latin: Ioannes Pauli II; Italian: Giovanni Paolo II; Polish: Jan Paweł II; born Karol Józef Wojtyła [ˈkarɔl ˈjuzɛv vɔjˈtɨwa]; 18 May 1920 – 2 April 2005) was the head of the Catholic Church and sovereign of the Vatican City State from 1978 until his death in 2005. He was elected pope by the second papal conclave of 1978, which was called after Pope John Paul I, who had been elected in August to succeed Pope Paul VI, died after 33 days. Cardinal Wojtyła was elected on the third day of the conclave and adopted the name of his predecessor in tribute to him. John Paul II is recognised as helping to end Communist rule in his native Poland and eventually all of Europe.John Paul II significantly improved the Catholic Church's relations with Judaism, Islam, and the Eastern Orthodox Church. He upheld the Church's teachings on such matters as the right to life, artificial contraception, the ordination of women, and a celibate clergy, and although he supported the reforms of the Second Vatican Council, he was seen as generally conservative in their interpretation. He was one of the most travelled world leaders in history, visiting 129 countries during his pontificate. As part of his special emphasis on the universal call to holiness, he beatified 1,340 and canonised 483 people, more than the combined tally of his predecessors during the preceding five centuries. By the time of his death, he had named most of the College of Cardinals, consecrated or co-consecrated many of the world's bishops, and ordained many priests.John Paul II was the second longest-serving pope in modern history after Pope Pius IX. Born in Poland, John Paul II was the first non-Italian pope since the 16th-century Pope Adrian VI. John Paul II's cause for canonisation commenced one month after his death with the traditional five-year waiting period waived. On 19 December 2009, John Paul II was proclaimed venerable by his successor, Benedict XVI, and was beatified on 1 May 2011 (Divine Mercy Sunday) after the Congregation for the Causes of Saints attributed one miracle to his intercession, the healing of a French nun called Marie Simon Pierre from Parkinson's disease. A second miracle was approved on 2 July 2013, and confirmed by Pope Francis two days later. John Paul II was canonised on 27 April 2014 (again Divine Mercy Sunday), together with Pope John XXIII. On 11 September 2014, Pope Francis added these two optional memorials to the worldwide General Roman Calendar of saints. It is traditional to celebrate saints' feast days on the anniversary of their deaths, but that of John Paul II (22 October) is celebrated on the anniversary of his papal inauguration. Posthumously, he has been referred to by some Catholics as "St. John Paul the Great", although the title has no official recognition.
Personal Life
Karol Wojtyła was a Cracovia football team supporter (club retired number 1 in his honour). Having played the game himself as a goalkeeper, John Paul II was a fan of English football team Liverpool, where his compatriot Jerzy Dudek played in the same position.In 1973, while still the archbishop of Kraków, Karol Wojtyła befriended a Polish-born, later American philosopher, Anna-Teresa Tymieniecka. The thirty-two-year friendship (and occasional academic collaboration) lasted until his death. She served as his host when he visited New England in 1976 and photos show them together on skiing and camping trips. Letters that he wrote to her were part of a collection of documents sold by Tymieniecka's estate in 2008 to the National Library of Poland. According to the BBC the library had initially kept the letters from public view, partly because of John Paul's path to sainthood, but a library official announced in February 2016 the letters would be made public. In February 2016 the BBC documentary program Panorama reported that John Paul II had apparently had a 'close relationship' with the Polish-born philosopher. The pair exchanged personal letters over 30 years, and Stourton believes that Tymieniecka had confessed her love for Wojtyła. The Vatican described the documentary as "more smoke than mirrors", and Tymieniecka denied being involved with John Paul II.Writers Carl Bernstein, the veteran investigative journalist of the Watergate scandal, and Vatican expert Marco Politi, were the first journalists to talk to Anna-Teresa Tymieniecka in the 1990s about her importance in John Paul's life. They interviewed her and dedicated 20 pages to her in their 1996 book His Holiness. Bernstein and Politi even asked her if she had ever developed any romantic relationship with John Paul II, "however one-sided it might have been." She responded, "No, I never fell in love with the cardinal. How could I fall in love with a middle-aged clergyman? Besides, I'm a married woman."
Early Life
Karol Józef Wojtyła was born in the Polish town of Wadowice. He was the youngest of three children born to Karol Wojtyła (1879–1941), an ethnic Pole, and Emilia Kaczorowska (1884–1929), who was of distant Lithuanian heritage. Emilia, who was a schoolteacher, died from a heart attack and kidney failure in 1929 when Wojtyła was eight years old. His elder sister Olga had died before his birth, but he was close to his brother Edmund, nicknamed Mundek, who was 13 years his senior. Edmund's work as a physician eventually led to his death from scarlet fever, a loss that affected Wojtyła deeply.As a boy, Wojtyła was athletic, often playing football as goalkeeper. During his childhood, Wojtyła had contact with Wadowice's large Jewish community. School football games were often organised between teams of Jews and Catholics, and Wojtyła often played on the Jewish side. "I remember that at least a third of my classmates at elementary school in Wadowice were Jews. At elementary school there were fewer. With some I was on very friendly terms. And what struck me about some of them was their Polish patriotism." It was around this time that the young Karol had his first serious relationship with a girl. He became close to a girl called Ginka Beer, described as "a Jewish beauty, with stupendous eyes and jet black hair, slender, a superb actress."In mid-1938, Wojtyła and his father left Wadowice and moved to Kraków, where he enrolled at the Jagiellonian University. While studying such topics as philology and various languages, he worked as a volunteer librarian and was required to participate in compulsory military training in the Academic Legion, but he refused to fire a weapon. He performed with various theatrical groups and worked as a playwright. During this time, his talent for language blossomed, and he learned as many as 12 languages — Polish, Latin, Italian, Spanish, Portuguese, French, English, German, Ukrainian, Serbo-Croatian, Slovak and Esperanto, nine of which he used extensively as pope. In 1939, the German occupation forces closed the university after invading Poland. Able-bodied males were required to work, so from 1940 to 1944 Wojtyła variously worked as a messenger for a restaurant, a manual labourer in a limestone quarry and for the Solvay chemical factory, to avoid deportation to Germany. In February 1940, he met Jan Tyranowski who introduced him to Carmelite mysticism and the "Living Rosary" youth groups. Also in 1940 he was struck by a tram, suffering a fractured skull. The same year he was hit by a lorry in a quarry, which left him with one shoulder higher than the other and a permanent stoop. His father, a former Austro-Hungarian non-commissioned officer and later officer in the Polish Army, died of a heart attack in 1941, leaving Wojtyła as the immediate family's only surviving member. "I was not at my mother's death, I was not at my brother's death, I was not at my father's death," he said, reflecting on these times of his life, nearly forty years later, "At twenty, I had already lost all the people I loved." After his father's death, he started thinking seriously about the priesthood. In October 1942, while the war continued, he knocked on the door of the Bishop's Palace in Kraków and asked to study for the priesthood. Soon after, he began courses in the clandestine underground seminary run by the Archbishop of Kraków, Adam Stefan Cardinal Sapieha. On 29 February 1944, Wojtyła was hit by a German truck. German Wehrmacht officers tended to him and sent him to a hospital. He spent two weeks there recovering from a severe concussion and a shoulder injury. It seemed to him that this accident and his survival was a confirmation of his vocation. On 6 August 1944, a day known as "Black Sunday", the Gestapo rounded up young men in Kraków to curtail the uprising there, similar to the recent uprising in Warsaw. Wojtyła escaped by hiding in the basement of his uncle's house at 10 Tyniecka Street, while the German troops searched above. More than eight thousand men and boys were taken that day, while Wojtyła escaped to the Archbishop's Palace, where he remained until after the Germans had left.On the night of 17 January 1945, the Germans fled the city, and the students reclaimed the ruined seminary. Wojtyła and another seminarian volunteered for the task of clearing away piles of frozen excrement from the toilets. Wojtyła also helped a 14-year-old Jewish refugee girl named Edith Zierer, who had escaped from a Nazi labour camp in Częstochowa. Edith had collapsed on a railway platform, so Wojtyła carried her to a train and stayed with her throughout the journey to Kraków. Edith credits Wojtyła with saving her life that day. B'nai B'rith and other authorities have said that Wojtyła helped protect many other Polish Jews from the Nazis. During the Nazi occupation of Poland, a Jewish family sent their son, Stanley Berger, to be hidden by a Gentile Polish family. Berger's biological Jewish parents died during the Holocaust, and after the war Berger's new Christian parents asked Karol Wojtyła, the future Pope John Paul II, to baptise the boy. Wojtyła refused, saying that the child should be raised in the Jewish faith of his birth parents and nation, not as a Catholic. He did everything he could to ensure that Berger leave Poland to be raised by his Jewish relatives in the United States. In April 2005, shortly after John Paul II's death, the Israeli government created a commission to honour the legacy of John Paul II. One of the ways of honour, proposed by Emmanuelle Pacifici, the head of Italy's Jewish community, was the medal of the Righteous Among the Nations. In Wojtyła's last book, Memory and Identity, he described the 12 years of the Nazi régime as "bestiality", quoting from the Polish theologian and philosopher Konstanty Michalski.