Discover Movies and TV Series that fit You with our Mobile Application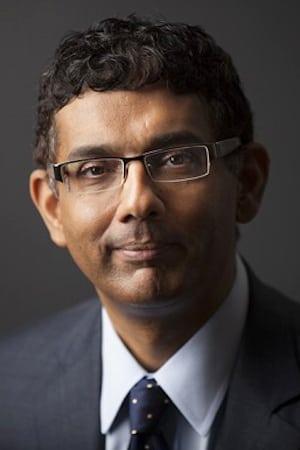 Dinesh D'Souza
Known For: Acting · Birthday: 1961-04-25
Check on Amazon
Biography
Dinesh Joseph D'Souza (; born April 25, 1961) is an Indian-American far-right political provocateur, author, filmmaker, and conspiracy theorist. D'Souza has written over a dozen books, several of them New York Times best-sellers. In 2012, D'Souza released the documentary film 2016: Obama's America, an anti-Obama polemic based on his 2010 book The Roots of Obama's Rage; it earned $33 million, making it the highest-grossing conservative documentary of all time and one of the highest-grossing documentaries of any kind. He has since released three other documentary films: America: Imagine the World Without Her (2014), Hillary's America (2016) and Death of a Nation (2018). Born in Bombay, D'Souza moved to the United States as an exchange student and graduated from Dartmouth College. He became a naturalized citizen in 1991. From 2010 to 2012, he was president of The King's College, a Christian school in New York City until he resigned after an alleged adultery scandal.In 2014, D'Souza pleaded guilty in federal court to one felony charge of using a "straw donor" to make an illegal campaign contribution to a 2012 United States Senate campaign. He was sentenced to eight months in a halfway house near his home in San Diego, five years' probation, and a $30,000 fine. In 2018, D'Souza was issued a pardon by President Donald Trump.D'Souza's films and commentary have generated considerable controversy due to their promotion of conspiracy theories and falsehoods, as well as for their incendiary nature.
Personal Life
In 1992, D'Souza married Dixie Brubaker, whom he first met when he worked in Washington, D.C. They have one daughter. The couple lived together in California until D'Souza moved to New York as president of The King's College. He maintained a residence near San Diego, California, where his wife and daughter remained. D'Souza and Brubaker divorced.On March 19, 2016, D'Souza married Deborah Fancher, a conservative political activist and mother of two. They live in the Houston metro area. The wedding was held near San Diego with Rafael Cruz, father of U.S. Senator Ted Cruz (R-TX), officiating. Fancher emigrated from Venezuela at age 10.
Early Life
Dinesh Joseph D'Souza was born in Bombay in 1961. Dinesh grew up in a middle-class family: his parents were Roman Catholics from the state of Goa in Western India, where his father was an executive with Johnson & Johnson and his mother was a housewife. D'Souza attended the Jesuit St. Stanislaus High School in Bombay. He graduated in 1976 and completed his 11th and 12th years at Sydenham College, also in Bombay. In 1978, D'Souza became a foreign exchange student and traveled to the United States under the Rotary Youth Exchange and attended the local public school in Patagonia, Arizona. He went on to matriculate at Dartmouth College, where he graduated with a Bachelor of Arts in English in 1983 and was a member of Phi Beta Kappa. While at Dartmouth, D'Souza wrote for The Dartmouth Review, an independent, student-edited, alumni and Collegiate Network subsidized publication. D'Souza faced criticism during his time at the Review for authoring an article publicly outing homosexual members of the school's Gay Straight Alliance student organization.After graduating from Dartmouth, D'Souza became the editor of a monthly journal called The Prospect, a publication financed by a group of Princeton University alumni. The paper and its writers ignited much controversy during D'Souza's editorship by, among other things, criticizing the college's affirmative action policies.From 1985 to 1987, D'Souza was a contributing editor for Policy Review, a journal then published by The Heritage Foundation in Washington, D.C. In a September 1985 article titled "The Bishops as Pawns," D'Souza theorized that Catholic bishops in the United States were being manipulated by American liberals in agreeing to oppose the U.S. military buildup and use of power abroad when, D'Souza believed, they knew very little about these subjects to which they were lending their religious credibility.He was a policy adviser in the administration of President Ronald Reagan between 1987 and 1988.In 1991, D'Souza became a naturalized United States citizen.