Vingadores: A Era de Ultron
Gênero: 
Nombre original: Avengers: Age of Ultron
Situação: Lançado
Tempo de execução: 2h 21m
Classificação do Conteúdo: PG-13
Orçamento: $365,000,000
Receitas: $1,405,403,694
Locais de Filmagem: Bourne Wood · London · Dover Castle · Hendon Police College · Sainsbury Centre for Visual Arts · Royal Holloway and Bedford New College · Shepperton Studios · Hawley, United Kingdom · Seoul · Mapo Bridge · Digital Media City, South Korea · Johannesburg, South Africa · Chittagong, Bangladesh · Fort Bard, Italy · Royal Holloway, University of London
203 Avaliações de Usuários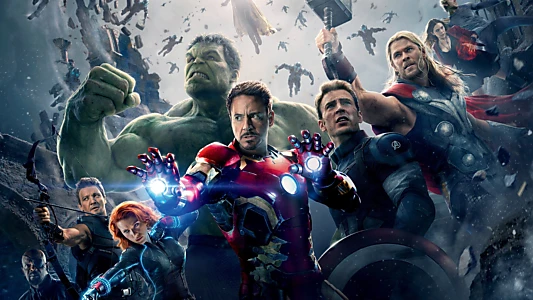 Sinopsis
.
O poderoso Capitão América, o lendário Thor, o impetuoso Homem de Ferro, o irascível Hulk e outros super-heróis da mesma estirpe voltam a ser chamados a lutar pelo futuro da Humanidade. Desta vez, a ameaça é uma forma de inteligência artificial chamada Ultron, degenerada de uma experiência de Tony Stark que tinha como objetivo conceber um programa informático que mantivesse a paz na Terra. Ultron decide que a única forma lógica de salvar o planeta é erradicar as pessoas... Para o enfrentar – e ao seu exército de "drones" –, a equipa de Vingadores vai ter de mobilizar e combinar eficazmente todos os seus poderes extraordinários e, sobretudo, a força que mais os distingue do vilão: o seu lado humano.
Onde Assistir
.

Flat
Atualmente Vingadores: A Era de Ultron filme completo está disponível para transmissão online, alugar, comprar ou assistir gratuitamente em: Disney Plus
Powered by
Galeria
.