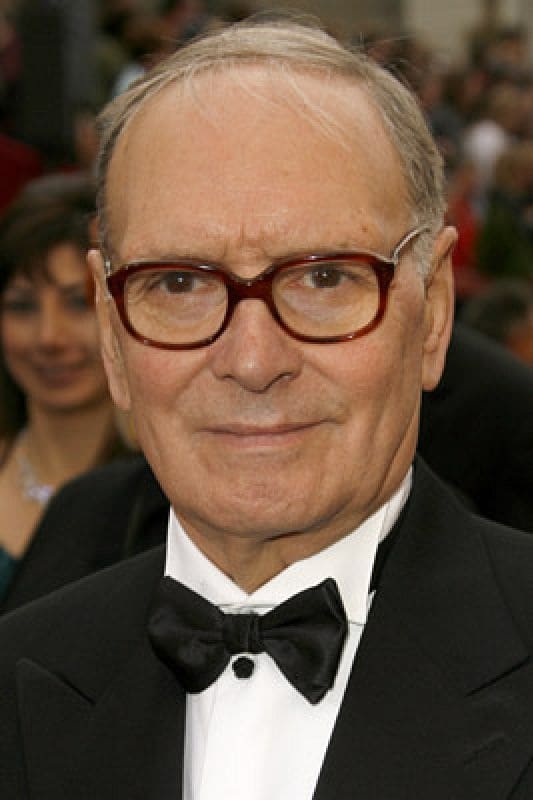 Biography
Ennio Morricone, OMRI (Italian: [ˈɛnnjo morriˈkoːne]; 10 November 1928 – 6 July 2020) was an Italian composer, orchestrator, conductor, and trumpeter who wrote music in a wide range of styles. With more than 400 scores for cinema and television, as well as more than 100 classical works, Morricone is widely considered one of the most prolific and greatest film composers of all time. His filmography includes more than 70 award-winning films, all Sergio Leone's films since A Fistful of Dollars, all Giuseppe Tornatore's films since Cinema Paradiso, The Battle of Algiers, Dario Argento's Animal Trilogy, 1900, Exorcist II, Days of Heaven, several major films in French cinema, in particular the comedy trilogy La Cage aux Folles I, II, III and Le Professionnel, as well as The Thing, Once Upon a Time in America, The Mission, The Untouchables, Mission to Mars, Bugsy, Disclosure, In the Line of Fire, Bulworth, Ripley's Game, and The Hateful Eight. His score to The Good, the Bad and the Ugly (1966) is regarded as one of the most recognizable and influential soundtracks in history. It was inducted into the Grammy Hall of Fame.After playing the trumpet in jazz bands in the 1940s, he became a studio arranger for RCA Victor and in 1955 started ghost writing for film and theatre. Throughout his career, he composed music for artists such as Paul Anka, Mina, Milva, Zucchero, and Andrea Bocelli. From 1960 to 1975, Morricone gained international fame for composing music for Westerns and—with an estimated 10 million copies sold—Once Upon a Time in the West is one of the best-selling scores worldwide. From 1966 to 1980, he was a main member of Il Gruppo, one of the first experimental composers collectives, and in 1969 he co-founded Forum Music Village, a prestigious recording studio. From the 1970s, Morricone excelled in Hollywood, composing for prolific American directors such as Don Siegel, Mike Nichols, Brian De Palma, Barry Levinson, Oliver Stone, Warren Beatty, John Carpenter, and Quentin Tarantino. In 1977, he composed the official theme for the 1978 FIFA World Cup. He continued to compose music for European productions, such as Marco Polo, La piovra, Nostromo, Fateless, Karol, and En mai, fais ce qu'il te plait. Morricone's music has been reused in television series, including The Simpsons and The Sopranos, and in many films, including Inglourious Basterds and Django Unchained. He also scored seven Westerns for Sergio Corbucci, Duccio Tessari's Ringo duology and Sergio Sollima's The Big Gundown and Face to Face. Morricone worked extensively for other film genres with directors such as Bernardo Bertolucci, Mauro Bolognini, Giuliano Montaldo, Roland Joffé, Roman Polanski, Henri Verneuil, Lucio Fulci, Umberto Lenzi, and Pier Paolo Pasolini. His acclaimed soundtrack for The Mission (1986), was certified gold in the United States. The album Yo-Yo Ma Plays Ennio Morricone stayed for 105 weeks on the Billboard Top Classical Albums.Morricone's best-known compositions include "The Ecstasy of Gold", "Se Telefonando", "Man with a Harmonica", "Here's to You", the UK No. 2 single "Chi Mai", "Gabriel's Oboe", and "E Più Ti Penso". In 1971, he received a "Targa d'Oro" for worldwide sales of 22 million, and by 2016 Morricone had sold more than 70 million records worldwide. In 2007, he received the Academy Honorary Award "for his magnificent and multifaceted contributions to the art of film music". He was nominated for a further six Oscars, and in 2016, received his only competitive Academy Award for his score to Quentin Tarantino's film The Hateful Eight, at the time becoming the oldest person ever to win a competitive Oscar. His other achievements include three Grammy Awards, three Golden Globes, six BAFTAs, ten David di Donatello, eleven Nastro d'Argento, two European Film Awards, the Golden Lion Honorary Award, and the Polar Music Prize in 2010. Morricone influenced many artists from film scoring to other styles and genres, including Hans Zimmer, Danger Mouse, Dire Straits, Muse, Metallica, Fields of the Nephilim, and Radiohead.
Personal Life
On 13 October 1956, Morricone married Maria Travia (born 31 December 1932), whom he had met in 1950. Travia wrote lyrics to complement her husband's pieces. Her works include the Latin texts for The Mission. Together, they had four children: Marco (b. 1957), Alessandra (b. 1961), conductor and film composer Andrea (b. 1964) and filmmaker Giovanni (b. 1966), who lives in New York City. They remained married for 63 years until his death.Morricone lived in Italy his entire life and never desired to live in Hollywood. He was among hundreds of artists whose material was destroyed in the 2008 Universal fire.Morricone described himself as a Christian leftist, stating that he voted for the Christian Democracy (DC) for more than 40 years and then, after its dissolution in 1994, he approached the centre-left coalition.Morricone loved chess, having learned the game when he was 11. Before his musical career took off, he played in club tournaments in Rome in the mid-1950s. His first official tournament was in 1964, where he won a prize in the third category for amateurs. He was even coached by 12-time Italian champion IM Stefano Tatai for a while. Soon he got too busy for chess, but he would always keep a keen interest in the game and estimated his peak Elo rating to be nearly 1700. Over the years, Morricone played chess with many big names including GMs Garry Kasparov, Anatoly Karpov, Judit Polgar, and Peter Leko. He once held GM Boris Spassky to a draw in a simultaneous competition with 27 players, where Morricone was the last one standing.On 6 July 2020, Morricone died at the Università Campus Bio-Medico in Rome, aged 91, as a result of injuries sustained to his femur during a fall.
Early Life
Morricone was born in Rome, the son of Libera Ridolfi and Mario Morricone, a musician. At the time of his birth Italy was under fascist rule. His family came from Arpino, near Frosinone. Morricone had four siblings — Adriana, Aldo, Maria, and Franca — and lived in Trastevere in the centre of Rome. His father was a professional trumpeter who performed in light-music orchestras while his mother set up a small textile business. During his early schooldays, Morricone was also a classmate of his later collaborator Sergio Leone.Morricone's father first taught him to read music and to play several instruments. He entered the Saint Cecilia Conservatory to take trumpet lessons under the guidance of Umberto Semproni. He formally entered the conservatory in 1940 at age 12, enrolling in a four-year harmony program that he completed within six months. He studied the trumpet, composition, and choral music under the direction of Goffredo Petrassi, to whom Morricone would later dedicate concert pieces. In 1941 Morricone was chosen among the students of the Saint Cecilia Conservatory to be a part of the Orchestra of the Opera, directed by Carlo Zecchi on the occasion of a tour of the Veneto region. He received his diploma in trumpet in 1946, continuing to work in classical composition and arrangement. Morricone received the Diploma in Instrumentation for Band Arrangement with a mark of 9/10 in 1952. His studies concluded at the Conservatory of Santa Cecilia in 1954 when he obtained a final 9.5/10 in his Diploma in Composition under Petrassi.
Filmography
Information
Known for
Sound
Gender
Male
Birthday
1928-11-10
Deathday
2020-07-06 (91 years old)
Place of birth
Rome, Italy
Children
Giovanni Morricone, Andrea Morricone
Father
Mario Morricone
Citizenships
Italy
Residences
Rome, Italy
Also known as
Leo Nichols, Dan Savio, Enio Morricone
Awards
European Film Academy Lifetime Achievement Award, Academy Award for Best Original Score, Leopard of Honour, star on Hollywood Walk of Fame, Order of the Rising Sun, 4th class, Gold Medal of the Italian Order of Merit for Culture and Art, Knight Grand Cross of the Order of Merit of the Italian Republic, Artis Bohemiae Amicis Medal, Knight of the Legion of Honour, Grammy Award, Grammy Trustees Award, Nastro d'Argento for Best Score, Princess of Asturias Award for the Arts, European Film Award for Best Composer